VOX MUSIC PLAYER
for MAC
Premium Mac Music Player for Hi-Res music through the popular sources.

Up To 4x Deeper Sound Resolution
Your Mac computer is much more powerful than an iPhone device. Fully utilizing a Mac's potential, we have developed VOX's Audio Engine in our FLAC Music Player for Mac. 
In addition to common formats, including: FLAC, MP3, CUE, APE & M4A – you can also playback Hi-Res Audio (HD Audio) with up to 24bit/192kHz, at 4 times higher than the standard 44kHz sound resolution. 
Enjoy 5.1 multichannel audio playback for the most comprehensive, sophisticated experience.
Learn More About Hi-Res

VOX Premium: A powerful Music Player Solution for Mac

Personal & iTunes Music
Enjoy your iTunes & Personal Music Library with ultimate possible quality. Experience the hands-down best iTunes alternative for Mac.

30.000+ Internet Radio Stations
Built-in radio app feature gives you access to thousands of radio stations around the world, categorized by country and genre.
Learn more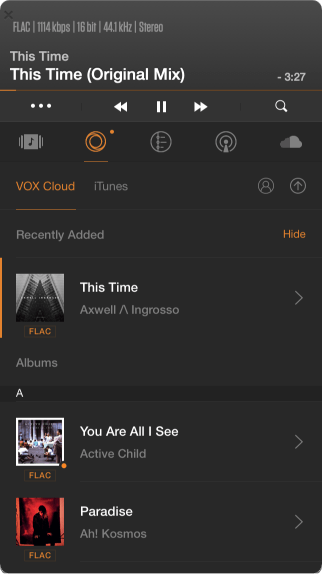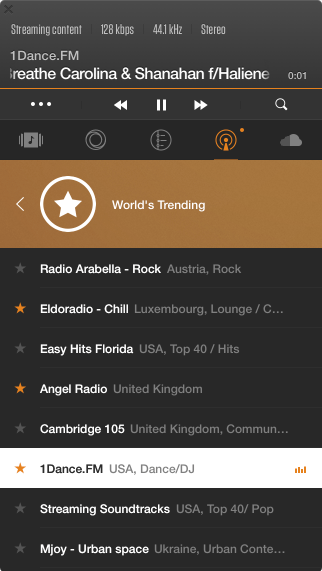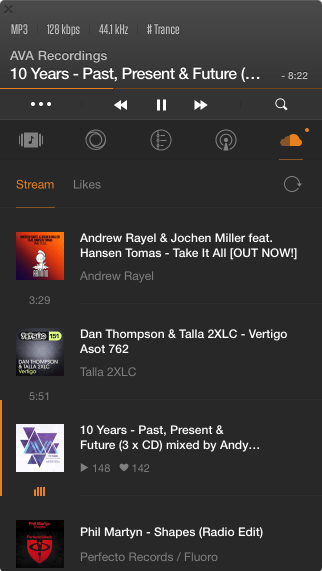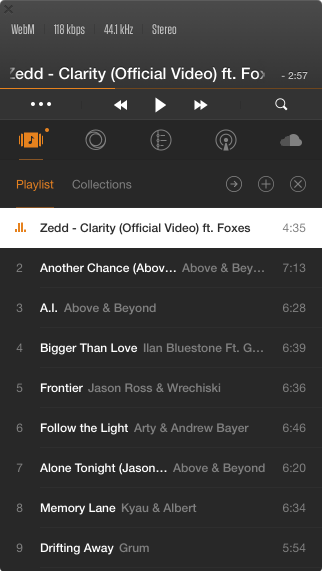 SoundСloud Player for Mac
Search music, browse your music feed and manage your Likes from VOX SoundCloud app for Mac OS.

YouTube Mac Musiс Player
Stream any YouTube link by copy/pasting (Press CMD+U) it into VOX Music Player for Mac.
Advanced Audio Settings and Features
Equalizer
VOX Premium gives an Equalizer with over 30 presets, and a manual 10-grid setting.
BS2B
Dramatically improve stereo audio record quality and avoid headphone superstereo fatigue.

SONOS Support
Stream all your music from VOX Premium for Mac straight to SONOS Speakers.
Learn more

Control Panel
You can use numerous playback control extensions with VOX Premium for Mac. They include add-ons for Apple Remote, EarPods, and System Buttons.
Gapless
VOX Premium makes queued tracks sound without gaps between them.
Bass Audio Engine
Exclusive audio engine delivers exceptional sound quality, even on regular headphones.


Assume Full Control with a Wide Range of Preferences
Recognizing the needs of true music loves, VOX Premium comes equipped with a comprehensive range of control settings and preferences.
With numerous options, including gapless and overlapping mixing, BS2B, HogMode, Synchronize Sample Rate, OutPut channels setup and adding extra volume to your tracks – VOX Premium proves to be the leader among audio players for Mac.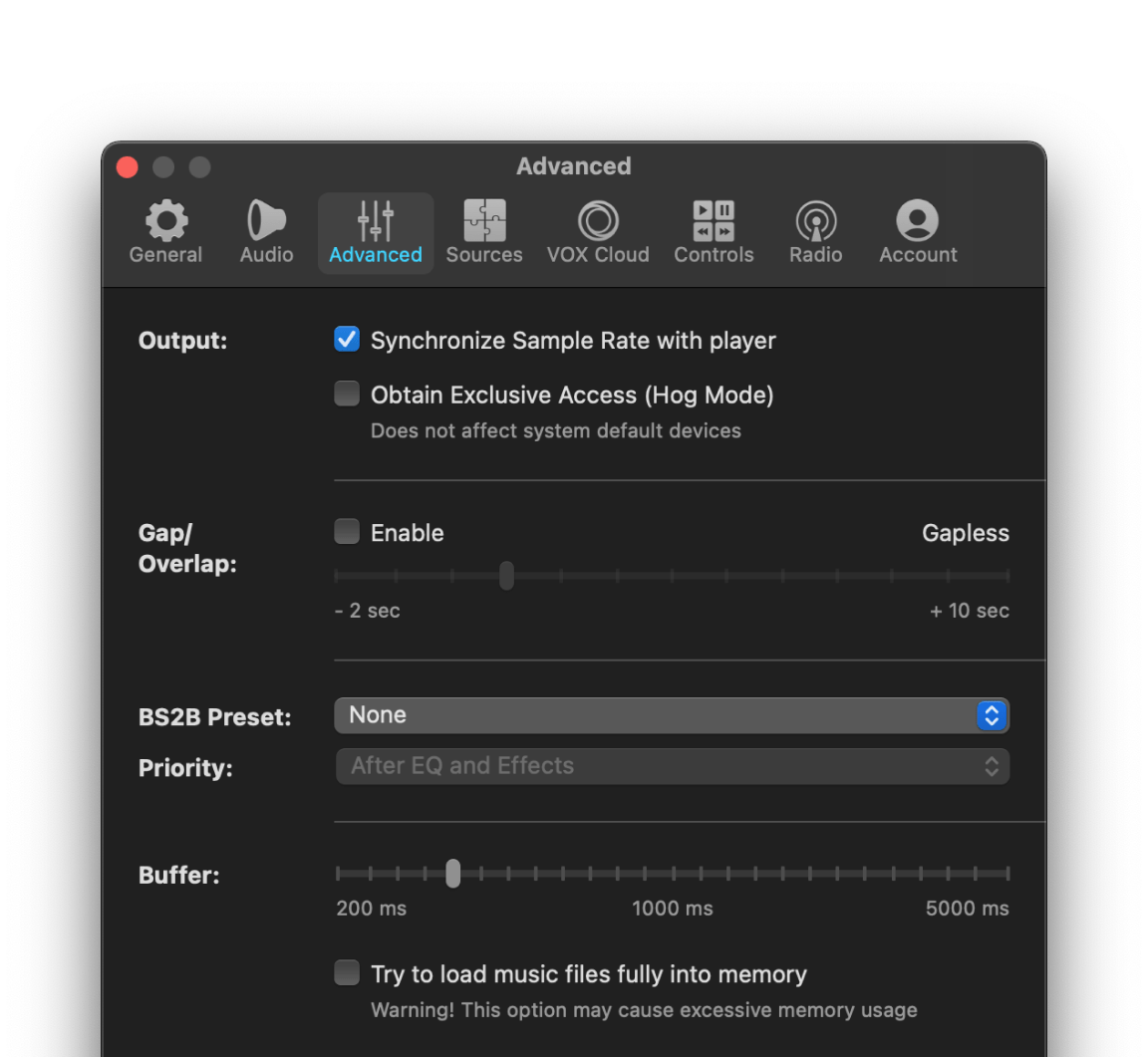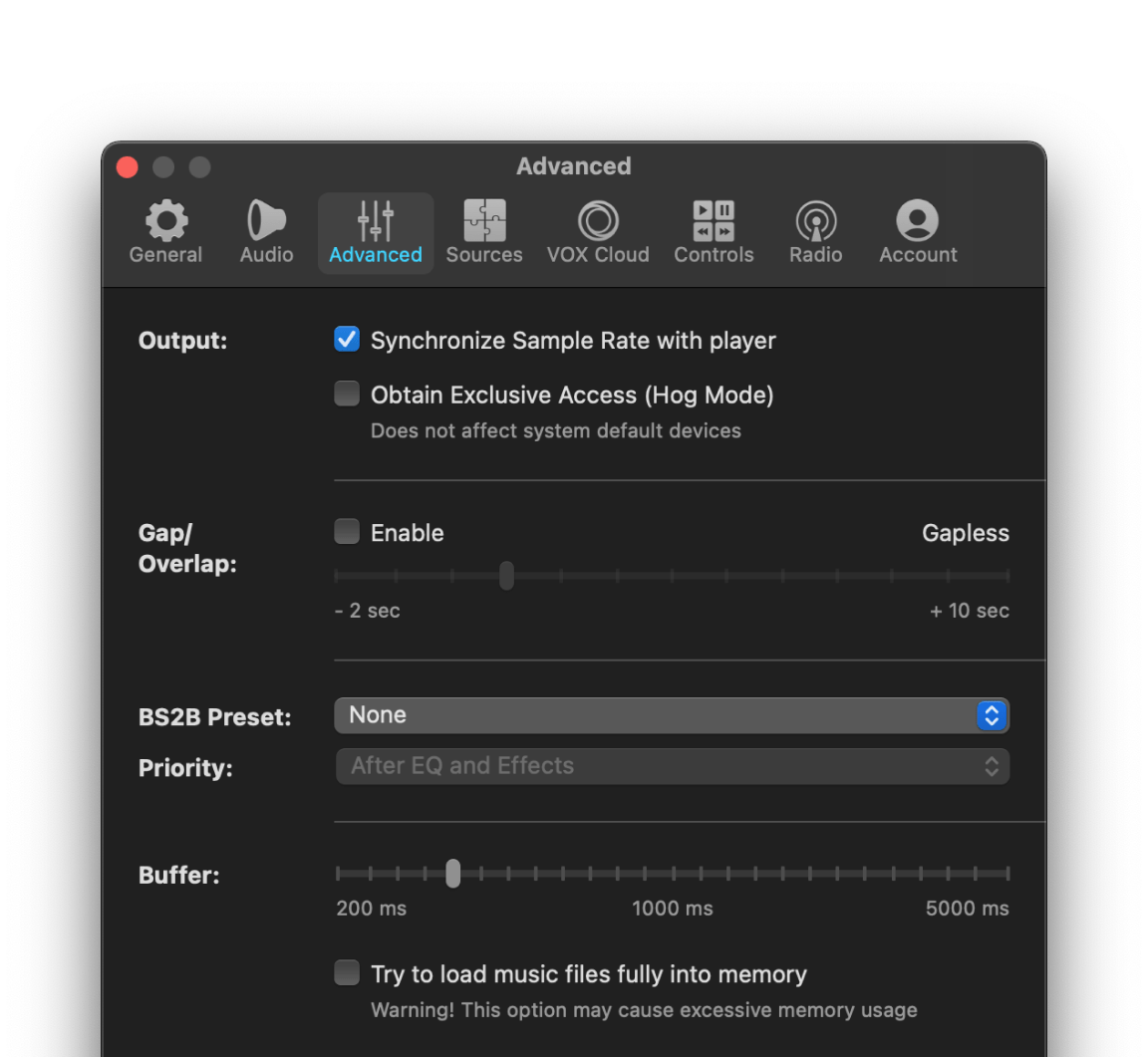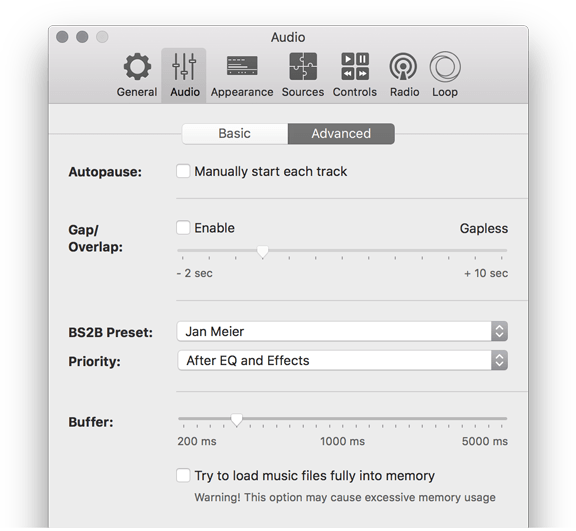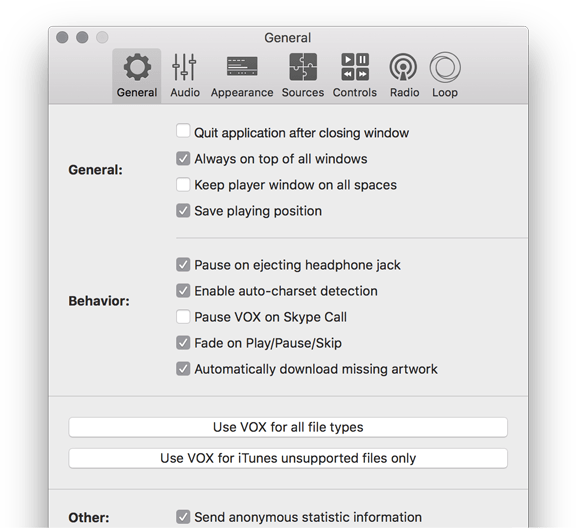 Integrated Unlimited Music Cloud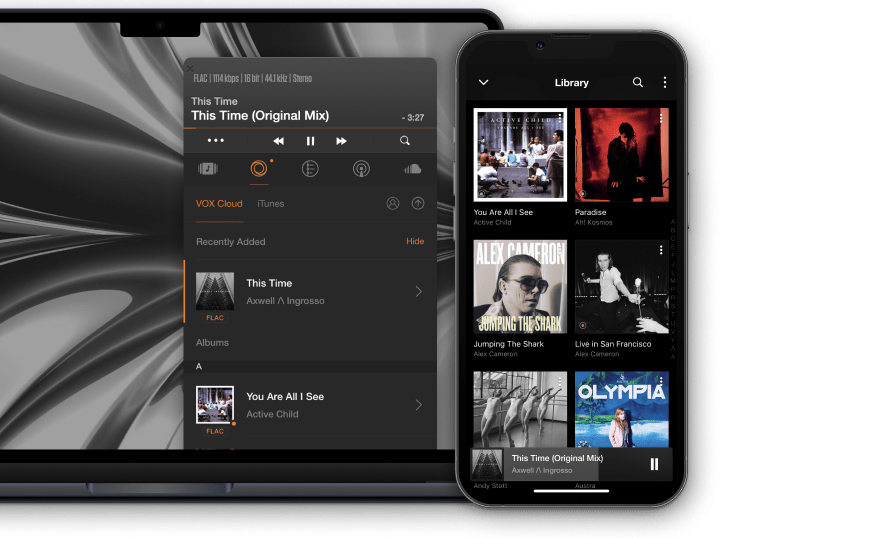 VOX Music Cloud is an unlimited online storage where you can store and manage your music collection including your iTunes library. You can access it from your Mac and iPhone anytime you want, and you can be sure that your music doesn't undergo any compression or conversion. You listen to the original quality of your audio files, regardless of their formats.
All your music. Maximum fidelity. Anytime, anywhere. With VOX Premium, it is possible.
VOX Music Cloud is available exclusively for VOX Premium subscribers.
Sync your music between your Mac and iPhone.

Unlimited Music Cloud Storage.

No Formats Conversion. FLAC stays FLAC!
Learn More About VOX Cloud (formerly LOOP for VOX)


VOX MUSIC PLAYER for Mac
Premium Mac Music Player for Hi-Res music through the popular sources.

FREE DOWNLOAD
GO PREMIUM