How to use
VOX Music Cloud
To store Hi-Res music, you will need lots of space. VOX Music Cloud is an unlimited music storage with no restrictions on audio formats.
Get VOX Music Player for Mac & iPhone
VOX Music Cloud works exclusively with VOX Music Player. Download VOX Music Player to enjoy the high-quality sound and uncompressed playback.
VOX for MAC
VOX for iPhone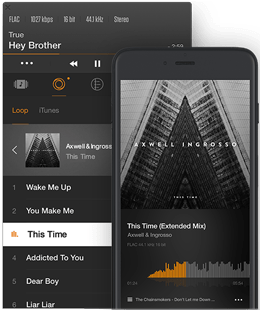 Sign up for VOX Premium
To get access to VOX Music Cloud you need to have a VOX Premium subscription.
Follow this link
to create a VOX Premium Account. Apart from the storage, Premium subscription offers Advanced Audio Settings, VOX Radio, and much more.
Upload your music to VOX Music Cloud
To upload music to VOX Music Cloud, you can use
the website*
or drag and drop your audio files to VOX Music Player for Mac.
*Some Browsers have File Size Limit ~250MB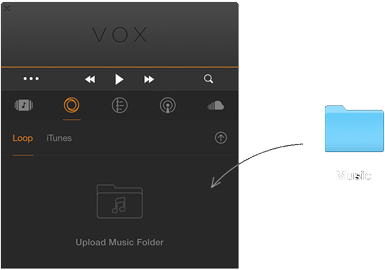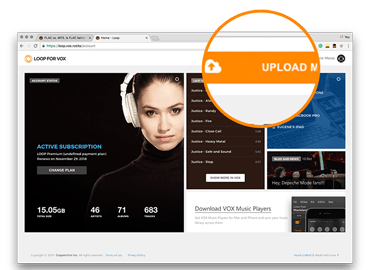 Log in and play
When you have uploaded your music to the cloud, you can access it from any device connected to your VOX Account.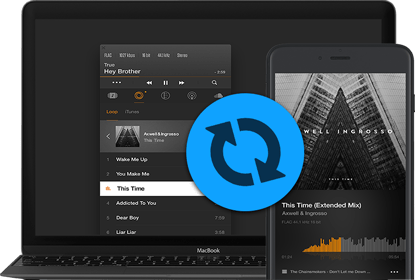 Frequently Asked Questions
What is VOX Music Cloud?
It's an entirely new way to store, access and sync your entire music library that's built into VOX Music Player for Mac & iPhone. All music stored inside VOX Music Cloud can be streamed in full quality to any device with VOX Player for Mac and iPhone apps, and this music can also be cached for playing offline.
Are there any limitations to music uploading?
You are not limited on how much you upload. Moreover, you can upload there any music file format, and it will be played on your devices without quality loss. Due to browser restrictions, we highly recommend uploading via VOX for Mac app. Although, for those, who have not Mac, there is a web uploader on loop account page. File size limit is 250Mb.
How can I sync my music in VOX for Mac and VOX for iPhone?
After uploading music via VOX Player for Mac, it will appear on all of Your devices (Mac & iOS) immediately, ready for streaming or saving for offline.
Do I need internet connection to play files stored in VOX Music Cloud?
Yes, VOX Music Cloud is the streaming service and you need an internet connection to play it on your device. However, you can download album\track on your iPhone from the VOX Music Cloud and play it without internet connection as a local file. Downloaded items have orange dot indicator. You can remove it from "Downloaded tracks" in the same way.
How can I save my cellular or roaming data?
To save the mobile data plan, you can download few albums offline before leaving home and listen to them offline. Downloaded files can be removed in one tap (in settings) and phone memory is free again.
Does VOX Music Cloud downsample or alter files anyway?
VOX Music Cloud will not downsample, or alter Your files. Lossless stays Lossless! files remain untouched and can be downloaded back in their original form.
Is VOX Music Cloud safe to use?
Even if your computer has a meltdown, your music is safe in VOX Music Cloud and can be downloaded back. All files stored online by VOX Music Cloud are encrypted and are kept on different servers across several data centers. It's much safer than storing music on external/network drives.
How can I use VOX Music Cloud after trial ends?
When your trial ends, in order to continue using VOX Music Cloud - you would need to purchase a subscription. You are free to choose one out of two subscription type for your account.
subscription in the AppStore from your iPhone. Check settings in your VOX Music Player.
subscription using PayPal or credit card from a desktop version. Check preferences - VOX Music Cloud tab.
Please check available plans in VOX Music Player app.
Is there any way to limit the upload speed for VOX Music Cloud?
Yes, you can definitely do that! Just click on VOX Music Cloud icon on menubar, and select "Preferences". Right under "General" you can find the option to limit the uploading speed.
Who can use VOX Music Cloud?
Anyone with an Apple ID and OS X 10.10+ or you should be at least on iOS 8. Just download VOX Music Player for Mac and iPhone.
Does VOX Music Cloud stream or download songs?
On a computer, any songs stored in VOX Music Cloud will stream over the air when played, though you can download them at any time, just right-click on the Album and choose "Download". On iOS VOX it works the same, for downloading just swipe to the left and choose "Download".
Which music formats can VOX Music Cloud handle?
You can upload and play all popular music formats as AAC, MP3, WAV, AIFF, ALAC, FLAC, OGG and more! All music is uploaded and played in the native format, we don't convert it.
How many devices can VOX Music Cloud support?
You can use it on up to 5 devices. Doesn't matter what devices, iPhones or Macs.