Which iPhone car music player to choose (CarPlay support)?
Now it is time to be serious: we are going to talk about music-lovers who would love to continue enjoying lossless files while driving. How can one do it? There is a variety of options which will help you to listen to your iPhone playlist in your car and we will try to examine some of them in a greater detail.
Let's see what options do we have:
FM transmitter.
using an AUX cord.
player connected to your car's speakers with the help of Bluetooth.
special app.
CarPlay.
specific stereo.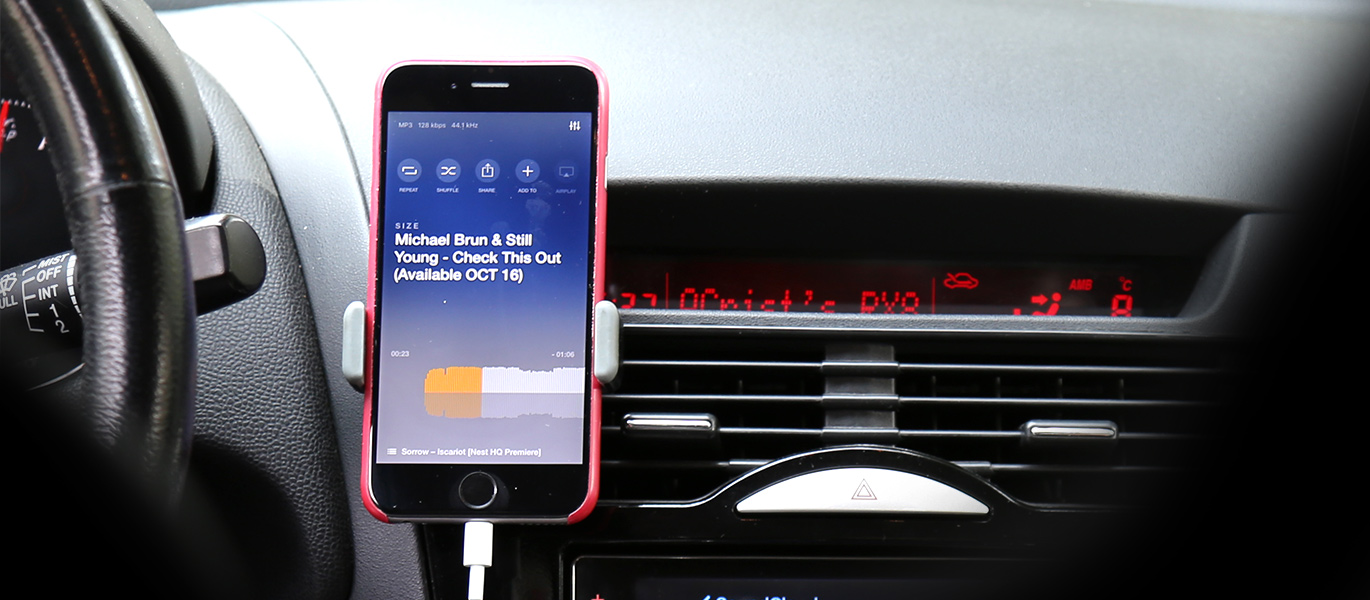 Today we will check out 2 most convenient ways to listen to your music: Bluetooth-compatible iPhone car music player and using a special AUX cord (if your car's player has such a port, of course!). There is no doubt that these two ways are the easiest because you are not required to spend a lot of time figuring out how everything works or looking for some specific additions for your car. Both of them will make sure that you will start enjoying your favourite music from your car's speakers with absolutely no effort!
We are not saying that using an adaptor or an FM transmitter is a bad idea, we just want you to have the best experience possible. Unfortunately, these two options are not likely to provide you with such a quality of a sound that an app or an AUX cord will – they just cannot be compared. And obviously, nobody is going to prohibit you from getting a new modern stereo. We all know that if you want something so badly – you have to go and get it. So if you decided to change your stereo – go for it. But in the meantime, please take a couple of minutes of your precious time to read about other options that will help you turn your iPhone into a car music player.
Using an AUX cord
Does your stereo has an AUX port?
If it does, you are quite lucky – with a help of just one cord you will be able to listen to your playlist within seconds. All you have to do is to get a special AUX (well, not so special – you can find it all over the world, even in the smallest shops!) cord and connect it to your iPhone and your stereo. It's easy and surprisingly does not affect sound quality too much – it is very similar to the one in your headphones'. This can also be a very good "back-up option" – even if you have chosen a different method for yourself, you can still keep the cord and time after time connect your friend's iPhones' to your stereo when travelling together. Sounds like a plan to us!
But it really not comfortable to manage the process of listening to music - only via the iPhone.
iPhone Car Music Player App
Using a special app seems to be one of the easiest options. Nowadays there is an app for everything, right? There is a number of apps which claim to be very easy to use and not asking much from you. Some of the apps perform commands based on your gestures, some ask you to simply tap or swipe if you are willing to change the song. This must be the most affordable option here because some of the apps can be downloaded for free! But in the end of the day, almost all of them will be using your iPhone to play music, not your car's speakers.
The other thing is choosing the iPhone car music player which will be able to connect to your speakers with the help of Bluetooth. First of all, there is no need for additional cords and wires. Secondly, we are sure that you will absolutely love it! Why? Because it is so simple and natural – your iPhone instantly connects to your speakers and your favourite music surrounds you.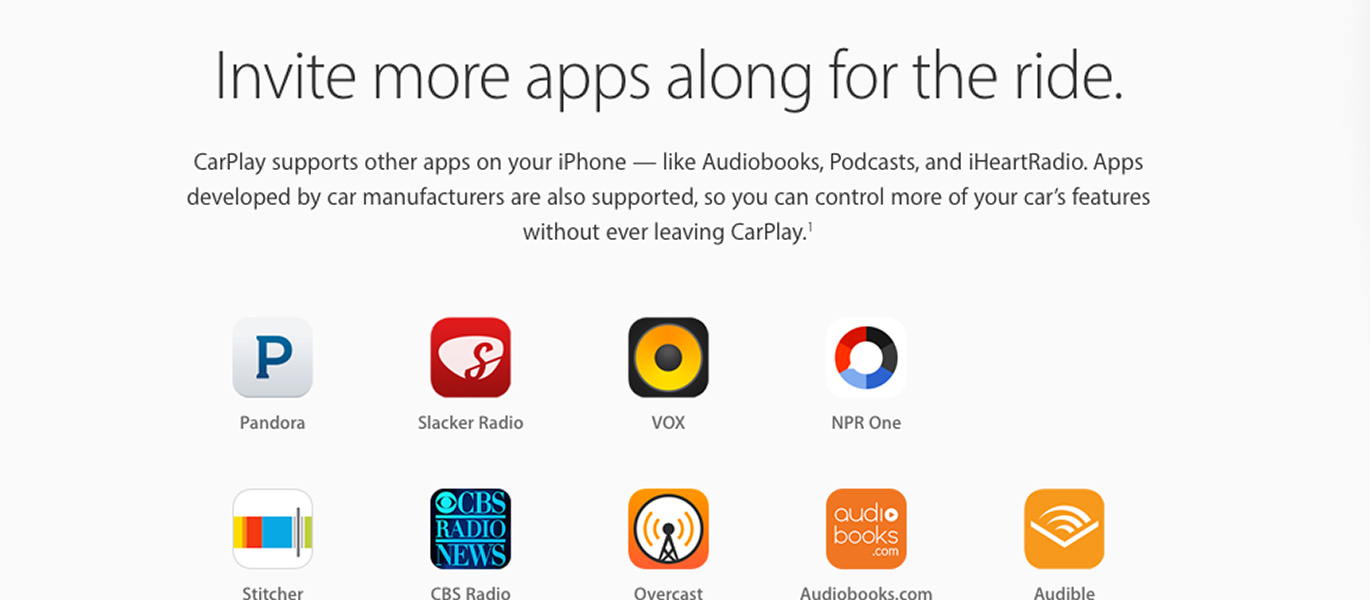 VOX for iPhone as the best car music player
Even though there are a couple of players which are compatible with Bluetooth, we recommend you to try VOX Player out.
You can have an endless library thanks to VOX music cloud-based storage. It will also help you synchronize and manage all your music. Why not pre-download tracks for offline listening? VOX can do that as well, it is not like all the other streaming sites you have used before. So many features in such a minimal player. Discover VOX for yourself and you will love it, trust us.
Start Using VOX Player Now. Create FREE account  

Moreover, there is one more cool thing about VOX – it is the first music player on iPhone which supports CarPlay. Let's talk a bit more about it:
CarPlay + VOX Player
CarPlay is one of the latest trends in the car and music industries. When you have CarPlay installed in your car it is very easy to play your favourite tracks – just connect your music library to it and enjoy it (you don't need the separate iPhone car music player). Unfortunately only some of the models can already boast it, such as Volvo, Mercedez Benz and Ferrari.
If you are not one of the guys who has everything from the latest fashion, do not give up. Getting CarPlay in an ordinary car is no big deal – you just have to install a Pioneer CarPlay system. Then it will be super-easy for you to play your lossless files with the help of VOX Music Player. Since VOX has one of the pre-installed CarPlay features, you will be able to see all your music library once you connect your iPhone. You do not even have to use iPhone anymore – just touch your CarPlay's screen as you would if you were using maps or phone and enjoy this absolutely amazing experience! All of the usual features of VOX will still be available if you access it from CarPlay – what could be better?
Now it is up to you which one to use! All of these 7 options will help you to create an iPhone car music player and will make sure that your music is with you when you are on the way to adventures!