How to listen to radio on iPhone?
What is the best radio in the world? We think that the best radio is the one that plays music that you love and avoids a lot of ads. Luckily, there are so many to choose from – it is just perfect for music lovers who listen to different kinds of music. In order to make your experience even better, we decided to check some of the most popular radios which can be played on your iPhone and see which one wins the prize!
Why radio? Because this is one of the simplest ways to discover new and trending music. Not mentioning that it is rather quick (in a sense of finding the best wave) and usually free. Even if you are the pickiest music-phile in the world, there is a chance that you will find something new for yourself.
Nowadays people can access radio from their laptops, phones, iPads and pretty much anything what can be connected to the Internet. They usually choose to either stream online or to use different apps – it means that their favourite wave follows them wherever they go (well, almost – we would not recommend going hiking or somewhere in the woods – the signal might be not that good). Today we will talk about both of them. We decided to focus on the radios which were specifically created so that they can be played on iPhones. So let's get started!


VOX Music Player's Radio
This radio is a part of VOX Premium Music Player, the player which makes sure that all music formats (even lossless!) are played in the best quality possible. This is one of the most categorized radios on iPhone – all of the stations fall under one of 18 music genres and there is also an opportunity to select one from the list of countries. Overall, VOX offers more than 30000 radio stations to choose from, which is pretty impressive. Moreover, the team behind VOX Music Player is constantly updating it.
VOX also allows you to create a personalized radio list by choosing and adding the radio stations that you love the most. We have never seen such a great variety of music all in one place – good old radio just became bigger and so international. The radio is a part of VOX Premium in your VOX Player (can be downloaded for free here).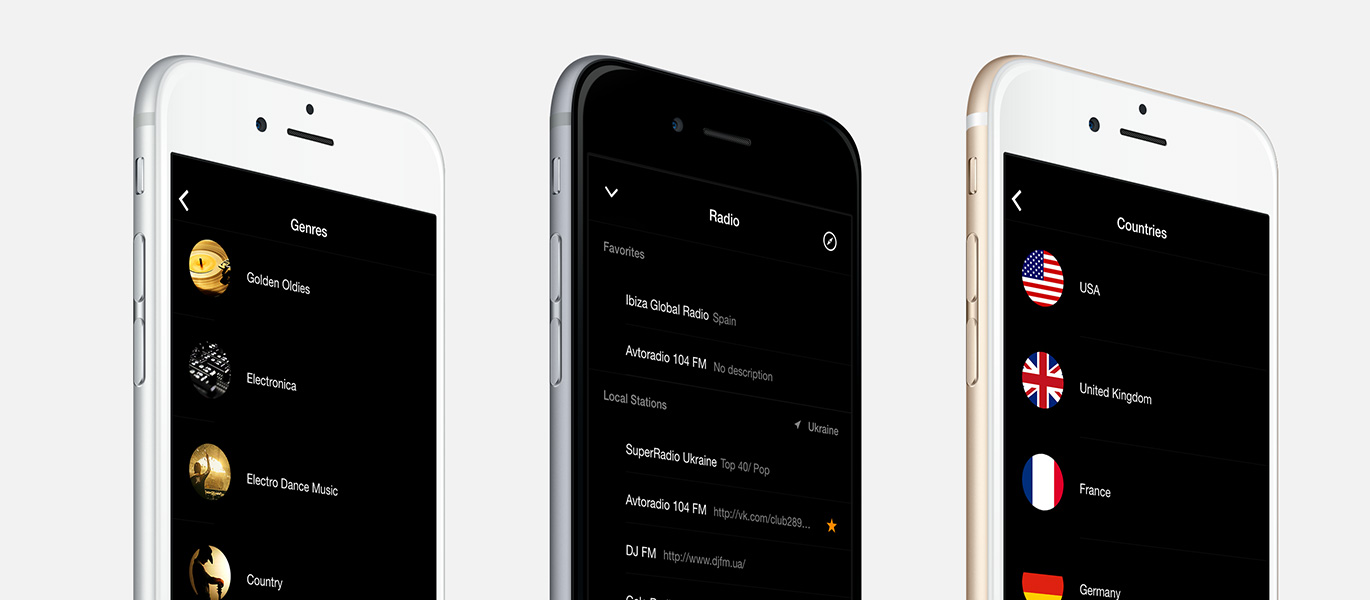 Radio App to listen to on your iPhone
One of the popular alternatives to online streaming and VOX Music Player is a Radio app which can be downloaded from the App Store. It includes some nice functions such as sharing with your friends what you are listening to and setting the radio station as your alarm signal. It is also very easy to use and can be played from different devices with the help of AirPlay. It offers many different radio stations to choose from. Just in case you cannot find the One, you can always add it to the list of radio stations (however, it is highly unlikely that your station is not found – all of the popular stations are already on the list).
Radio must be one of the best apps for iPhones because you can easily download some of the tracks from iTunes radio stations and also benefit from the recommendations for new releases. And the last but not least – in order to not to lose the song you just enjoyed – simply add it to your favourites. Quick tip: you will be able to see all of the songs which were played on the radio station – just add the one you liked to your favourites and listen to it again and again! Looks like you can listen to all the radios in the world on your iPhone now!


Online streaming services as New Radio stations
Online streaming services such as SoundCloud, YouTube, 8tracks and many more can be considered a new chapter in the history of radio stations. The best thing about them is that they can be customized by your preferences and even created by your friends and people loving similar types of music. Whether it is rock, blues or jazz – you will definitely be able to find something what you are looking for in the myriad of different playlists. You can access them if you are just in the mood for some study or fun music, or you can register and have your own account, Registering (which is more often free!) provides many privileges such as saving your favourite songs and playlists, following the artists who created such amazing pieces and trying on the job of a DJ by creating a sample playlist. One can also upload their own songs and music and share them with a community. Not a bad way to promote yourself, huh? We think that online streaming services are in fact new radios and it is absolutely great that they can be listened to on every iPhone and any other device.
To be honest, it was very hard to choose the best way to listen to radio on the iPhone. However, the absolute winner seems to be VOX Music Player because it is not only a good way to listen to a great variety of radio stations. But you can also listen to online streaming services such as Soundcloud and Spotify, and soon you'll be able to stream from Youtube with the help of VOX and add the songs to your playlist. In addition, just listen to the sound you will never ever want to use any other player for your music. If still in doubt – just give it a go and hear for yourself: download VOX iPhone Music Player.