Your new iOS music player, customized specifically for you
Are you tired of using your iTunes as a default music player? Would you like to have a personalized iOS music player and not think about all the other additional features such as films, games and podcasts? It is time to find a new player for you, an iOS music player which will suit all your needs.
First of all, you have to try to understand what kind of music player are you looking for? Are you looking for the one which will be able to play your FLAC files or the one that will be able to play both lossy and lossless formats? Are you looking for an elegant or a lightweight? Are you willing to buy it or would you prefer to get a free version? Does it have to have a minimum of necessary features or does it have to be multifunctional and packed with a variety of different tools for your music tracks? Once you have done that, it should be rather easy for you to find an iOS music player.
Today we are going to take a look at a number of popular iOS music players and we will try to give you an overview of their good and bad sides. Let's start!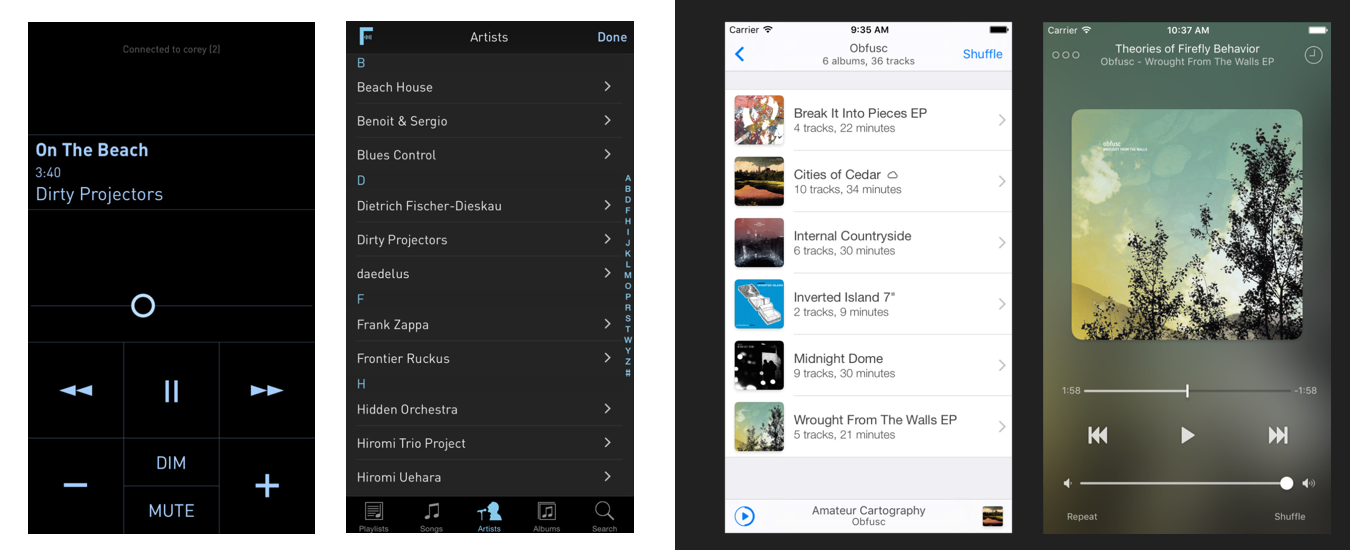 Fidelia – a premium iOS music player
Fidelia is one of the so-called "premium" music players for iOS. Why premium? Simply because it can play not only lossy files, but also lossless. Even the ones which were not supported by iTunes natively can be played with Fidelia now. It also gives you an option of converting your MP3 music tracks to another forma,t i.e. your MP3 file can be easily converted to AAC or OGG. Fidelia boasts a rather impressive selection of effects and tools, as well as having a top quality playback. In addition, it has a very elegant design. All of the above mentioned features have led to it being called "premium". If you would like to try it, you can opt to get a common version for $30 or an advanced one for $50. There is also a remote control app for your iPhone available for just $10 – you can get it from the App Store.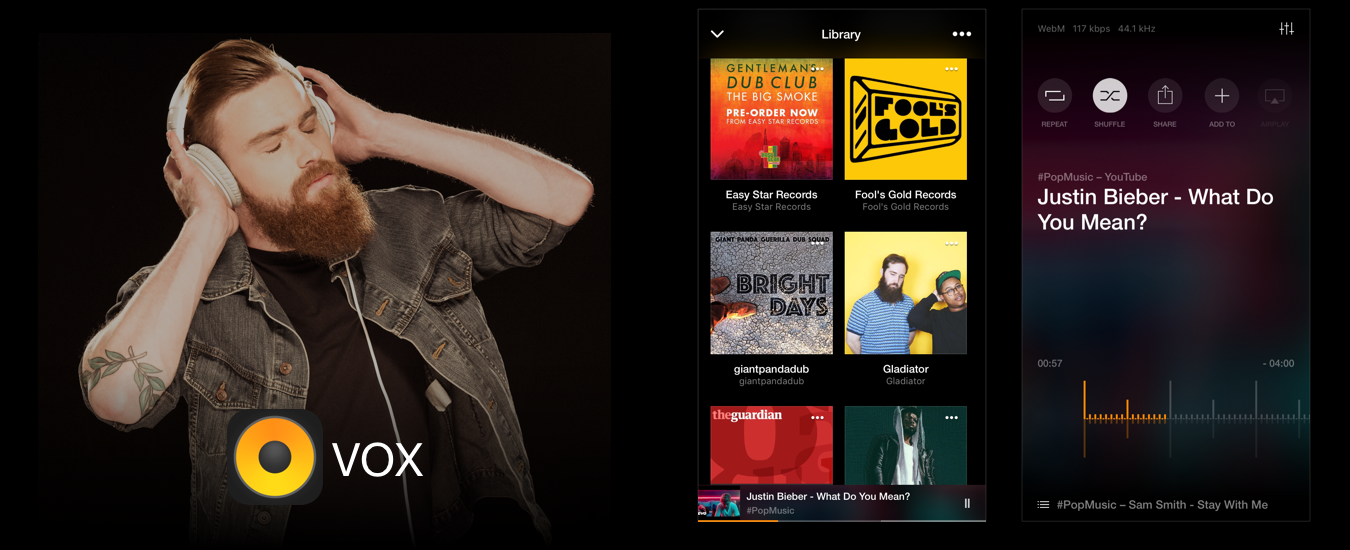 VOX – more than just a iOS music player
VOX music player, created by Coppertino Inc., is the leader in the field of iOS music players (download it). An enhanced BASS technology makes sure that you get the most of your music – everything you decide to listen to with its help just sounds better. Even though it might seem to be quite minimalist, it is very powerful. VOX supports a very wide variety of formats and can be fully integrated with Soundcloud. This player offers a carefully selected list of radio stations and gives one an opportunity to have their own music cloud storage, called VOX Cloud.
Start Using VOX Premium with all audio features inside. Create FREE account 

VOX Premium is absolutely infinite and can be added to your account for just $4.99 (per month) or $49.99 (per year). VOX Cloud will synchronize all your music between your PC, Mac and iPhone and will help you download tracks for offline listening if you wish to. And the last but not least – VOX also supports AirPlay, allowing you to stream your favourite music in the best quality to your AirPlay-enabled speakers and other devices. If we were to describe VOX in a couple of words, they would be "HD quality" – because this is the quality you deserve.
Ecoute – a beautiful and simple iOS music player
Another elegant and simple player on our list – Ecoute. Most of the users love not only its design, but also its simple but useful features. The searching process is made even faster with the help of new navigation system and a variety of filters. Ecoute offers more control over your music with the help of "play next" button and shuffle mode for albums. You can just press on your favourite album's artwork in order to find out what other cool features Ecoute has to offer. Ecoute allows you to enjoy not only your music, but also podcasts and audiobooks; they even created special filters for them to make your listening experience even better. One of the other cool features is sharing a now-playing-song on Last.FM – because why not? We know that you are listening to the best music so why not share it with your friends? ☺
But we think that you should also know about another interesting feature of Ecoute – a night mode. The user can set at which level of brightness the player will switch into the night mode or even opt to leave it on forever. Ecoute is a rather simple, yet quite a multifunctional music player. And it costs just $1! Think about it ;)
Now we will leave you at the crossroads of making a choice for the best music player for your iOS device. It looks like it is a great day to try something new! Let's start from VOX iPhone Music Player.