A completely new audio player for Mac
Do you consider yourself to be a true music-phile? Can you cite the lyrics from each song from your never-ending collection? You are often mistaken for someone who is working in the music industry? It does not matter whether you are loyal to only one kind of music or your preferences change from time to time, what matters is your love for music.
Unfortunately, most of the people are so into their music that they do not even think about playing it in the other audio player than default Mac's. Did you ever think that your favourite track might sound very different if you play it with the help of some other audio player for Mac? It definitely will. And the secret is not only in the audio engines and all those new technologies which keep on advancing. The secret is hidden in the fact that there is a very big variety of music formats nowadays and some of them will not be able to present their true value if they are played with an average audio player.
All the music formats can be divided into two big groups: lossy and lossless. One cannot really call them "competitors", they are simply different. Lossy sounds usually lack some of the barely hearable tones and "weigh" a bit less. Popular representatives of lossy sounds are MP3, AAC and Vorbis. Lossless sounds cannot be compared to lossy sounds. Why? Because they preserve the sound of the original recording and it will never decay. No data is lost and as a consequence, the quality of the sound is much higher. There just 2 minor disadvantages: it "weighs" a bit more than a lossy sound, and that your player might not be able to play it (for example, iTunes does not play FLAC, but created its own lossless format ALAC, instead). Apart from FLAC and ALAC, WAV and AIFF are other two common lossless formats.
We are going to look for the best representatives in the field of audio players for Mac. Our main goal is to find a multi-functional and universal player, which will suit the real music lover and will be able to play both lossy and lossless formats. We chose these characteristics because we understand that it does not make any sense to convert one's existing never-ending library of MP3 songs to FLAC during one night and we would like to make all the music-files happy. Naïve? Maybe. But we are determined to find The One and we will definitely succeed!
Ecoute – iTunes helper or a separate Mac audio player?
Ecoute is an audio player for Mac which works together with iTunes. It makes one's life much easier – you still have your good old iTunes, but all the clutter is taken away, Ecoute has taken care of it. iTunes' library is being accessed and played by Ecoute. The great thing is that it can not only play music tracks, but also podcasts and videos. One can also integrate with Facebook and Twitter in order to boast in front of everyone about your excellent music taste :P .
Overall, it is a good audio player for Mac, not too innovative but stable and intuitive. Good choice for someone who knows what they want.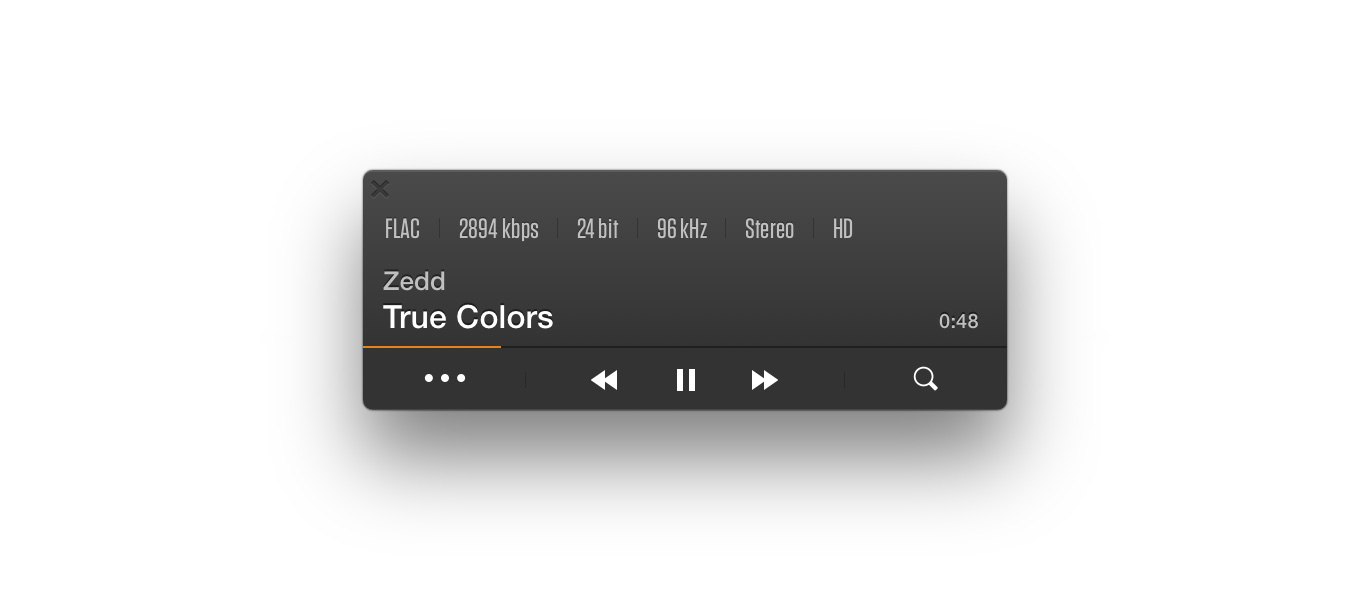 The best audio player for Mac and iPhone – VOX
If you type in Google: "audio player mac" one of the first results that will come up will be about the VOX music player by Coppertino. It is a truly deserved throne, since this is a leader not only in the market for audio apps, but also for the audio players for Mac and Windows computers. The owners of Androis devices should not be sad – this app is constantly improving and we guarantee that very soon you will be able to install it on your Android tablet.
Why do we think that this is the one? It is simple, yet powerful. The design is elegant, user interface can be easily understood even by a kid and the best is that it plays a very wide variety of formats, both lossy and lossless. The audio engine makes sure you are taken to your dream world and it is undoubtedly the best present for a music-lover. We did not mention that it also offers a music cloud service called VOX Cloud, which allows you not only to synchronize your music libraries between Windows, Mac and iPhone, but also to store your infinite amount of albums and songs (trust us, it is really infinite!). It is for those who are passionate about music and cannot live a day without it. For those who value the quality and universality. For those who would not accept compromises. Recognize yourself?
Start Using VOX Premium with all features inside. Create FREE account



Tomahawk – surrounded by music
Another good audio player for your Mac is Tomahawk. It's beauty is in its ability to play music from various websites and social networks. You can easily add tracks from SoundCloud, Spotify, Rdio Last.FM and even YouTube! Think of it as two in one offer: it can play music, both from your computer and the one that is streamed online. You can also share what you are listening to at the moment with the absolutely cool feature of Tomahawk – sharing the music track with your friends on Twitter, Google Talk and Jabber. This creates an absolutely new, socializing experience. It also plays different music formats and is available for many operating systems. Choose it if you also think that music connects people ;)
Now it is the time to choose. Make sure you make the right decision! ☺