An MP3 Player for your Mac desktop computer
Are you looking for a different music player to play your extensive mp3 collection on your Mac? Would you like to customize a perfect player for yourself? Are you looking for something more than just a music player? Even though you are used to your default music player, you would like to try something new out? If your answer is "yes" to at least one of the above-mentioned questions, then this is the article for you.
We would like to present you a number of good, interesting and fresh mp3 music players for your Mac. Each of them has different characteristics, but all of them would definitely become an irreplaceable addition to your Mac. In order to discover what we have prepared for you, please, follow us!


Decibel MP3 music player for Mac
The moment you launch Decibel on your Mac, you are taken back to the past, to the good old iTunes. Correction: the user interface of this player looks quite similar to iTunes' from a couple of years ago. The good things do not finish here – Decibel knows how to surprise you. Minimal interface and gapless playback will make sure you do not have to think about what you should play next. A great variety of formats is supported, both lossy and lossless (just in case one or two FLAC files sneak into your collection ☺). It also features a 31-band equalizer, for unlimited sonic adjustment and better volume control (both digital and device's).
For those music-philes who are looking for something more advanced, Decibel offers an output adjustment feature  so the sample rate of the device is similar to the track's and there is no decrease in quality of the playback. Lastly, another useful feature is cache memory playback –  helps you avoid any audio issues associated which happen when you access disc. The only disadvantage we found is that the full version of the mp3 music player Decibel will cost you $33 – however, you should agree, for this money it is a rather good bargain.


Pure Music Player
This player is probably one of the best multi-taskers in the world, if you take into an account a number of features it presents. The creators prefer to call it "high resolution music server software" rather than just a "mp3 music player". One of the main differences from the other players is that it does not just use iTunes as a folder containing all the music files, it uses it as a database and helps you organize the files. It might sound a bit pricey ($129) but its features would suit someone who is looking for something more serious. To name just a few - gapless playback, memory play and real-time sample rate converter.
Pure Music Player can play all the formats which are supported by iTunes, as well as FLAC and DSD formats. One can also benefit from an Audio Streaming Support feature which allows one to play, and strengthen the sound coming from all the other audio streams such as Spotify, YouTube, internet radios, etc. For those who cannot live without their music, Pure Music Player has a solution: it can be installed on multiple computers (according to your license) and it also supports Apple remote app so you can access it from your iPhone, iPad or iPod touch. In its heart is a Pure Vinyl audio playback engine, which has fans all over the world. Would you like to try it? A quick tip before you get it: try to understand whether you really need to have all those advanced features first. If not – there is no reason to pay more.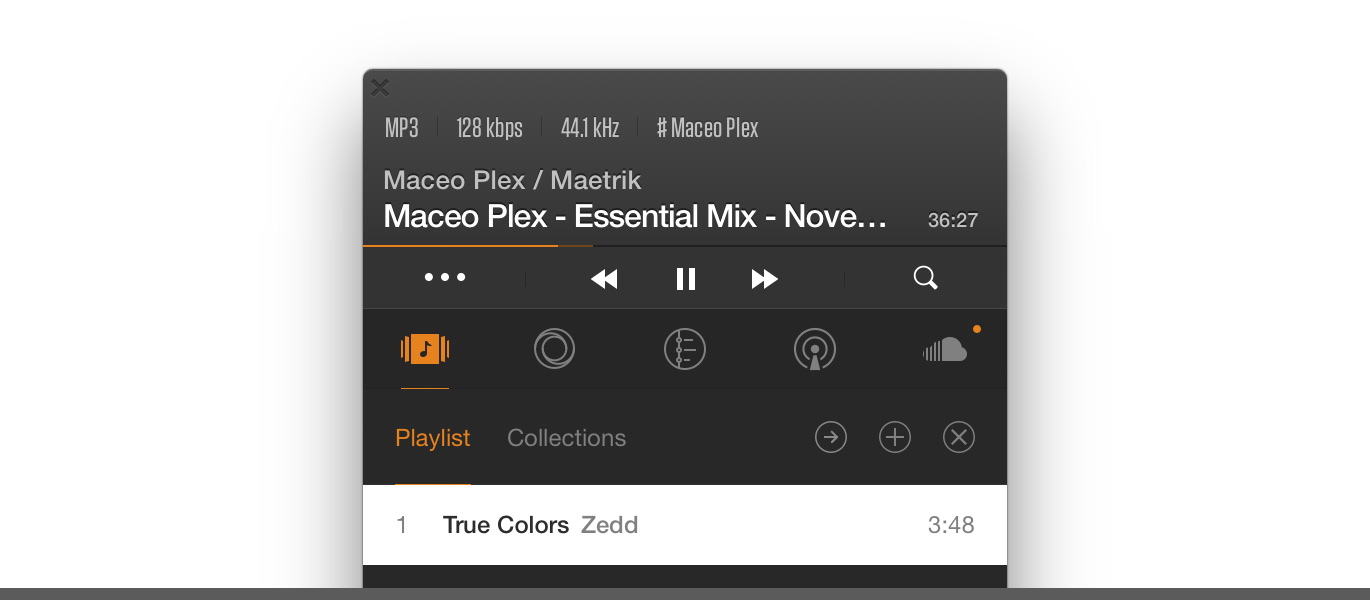 VOX – not just an ordinary MP3 player for Mac
And the last but not least participant in our list is VOX music player. It is not strictly an mp3 player for Mac, it has much more to offer. This elegant music player would not only be able to play all your mp3 files, but will also be able to handle other lossy and lossless formats. Since it was created specifically for music-lovers, the quality of the sound is just ah-mazing. After trying VOX player out, you will stop looking for any other! In addition to being such an impressive mp3 player for Mac, it will help you synchronize all your music libraries across your iOS devices (yes, VOX also has a version for iPhone! You can download it here). One of the best features of VOX is VOX Cloud, unlimited cloud-based storage, ideal place for storing your endless music collection of mp3 and FLAC files. Does it sound as a dream? No, it is a reality. By the way, you can get this awesome player for FREE, there are absolutely no hidden charges, never.
Sync your Music between Windows, Mac & iPhone with VOX Premium. Create FREE account! 

We really hope that we helped you find the one and only mp3 music player for your Mac. We understand how important it is to have a player which suits all your needs and enjoy a little bit of me-time. Let us know which one you like the most!