Best Music Apps – everything you need to have to feel comfortable with your music

Why have ten music players if you need one? Why bother people if you can shazam?
Some tools are vital for music lovers and here's top best music apps for you.

What is the first thing we do when we get our brand-new iPhones? Correct, we go to AppStore and start blindly downloading apps that we know, tried, heard of or would like to check out. The problem is that the number usually exceeds 50 or even more since having a 32GB+ phone we do not really care if we use them. Music app is an entirely different thing. There are some many of them that one can easily get confused when it comes to choosing apps you may need to listen, explore and read about music. AppStore is full of different music apps that offer a vast range of services including streaming, storing, discovering new or providing new from the music industry. The list is immense. Regardless of whether you are a musician, music-lover or just a regular listener you might find more than 5 or even more music app that you store "just in case." The truth is "case" will never come and these apps will turn into garbage never to be opened.Fortunately, we decided to ease the choice of what to delete and what to leave, and we are proudly present our        Top of Best Music Apps for music admirers. Everything you need to manage your music.

Best music app for listening – VOX Music Player for Mac & iPhone

If you think about Apple Music or Spotify when asked about music player, you most probably haven't used or even heard of VOX Music Player. Undoubtedly, the best music player for iPhone & Mac. Developed by Coppertino this player aim to bring out the best in your musical experience using minimalistic design, intuitive interface and the most important – excellent sound engine that gives the sound you haven't even dreamt of.Of course, you can play the usual range of compressed audio files, as well, including MP3, AAC and any other format imaginable. The main highlight of this player is certainly the ability to render HD music formats like APE, WMA, and FLAC, etc. which are unavailable in iPhone's native player. You can also cache music to play if offline.
Learn more about Hi-Res Music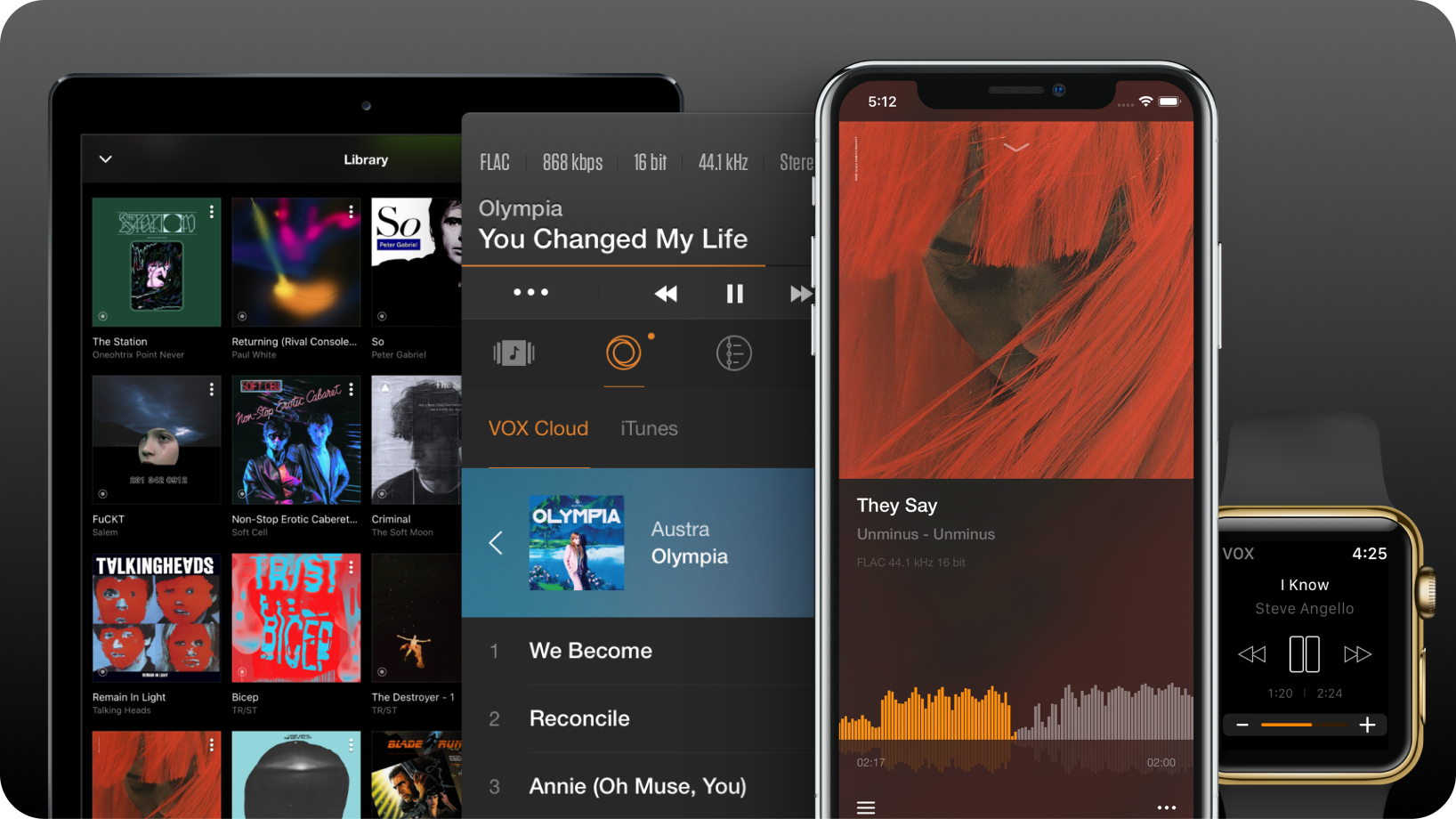 Key features include:
Lossy and lossless format support.

Synchronize with your Spotify, SoundCloud accounts for better music experience.

Scrobbling to Last.fm to keep your current listening statistics.

Synchronization with VOX for Windows, Mac and iPhone (if you have one).

As for the extra features, here you'll get internet radio, uncompressed playback, equalizer, appealing interface and social network support. It means you can share your music with family, friends, and colleagues on Facebook or Google+.
+ For storing music – VOX Music Cloud Storage

Limitless cloud space for your music collection? Easy file sync between your devices? Sounds like a dream, but it's not. It is VOX Music Cloud Storage, and you have a lifetime of pure musical bliss right in your hands. Just synchronize it with VOX Music Player on your device, upload your music, and start listening to any music formats. A great option if you prefer lossless to lossy but don't want to store it on your device.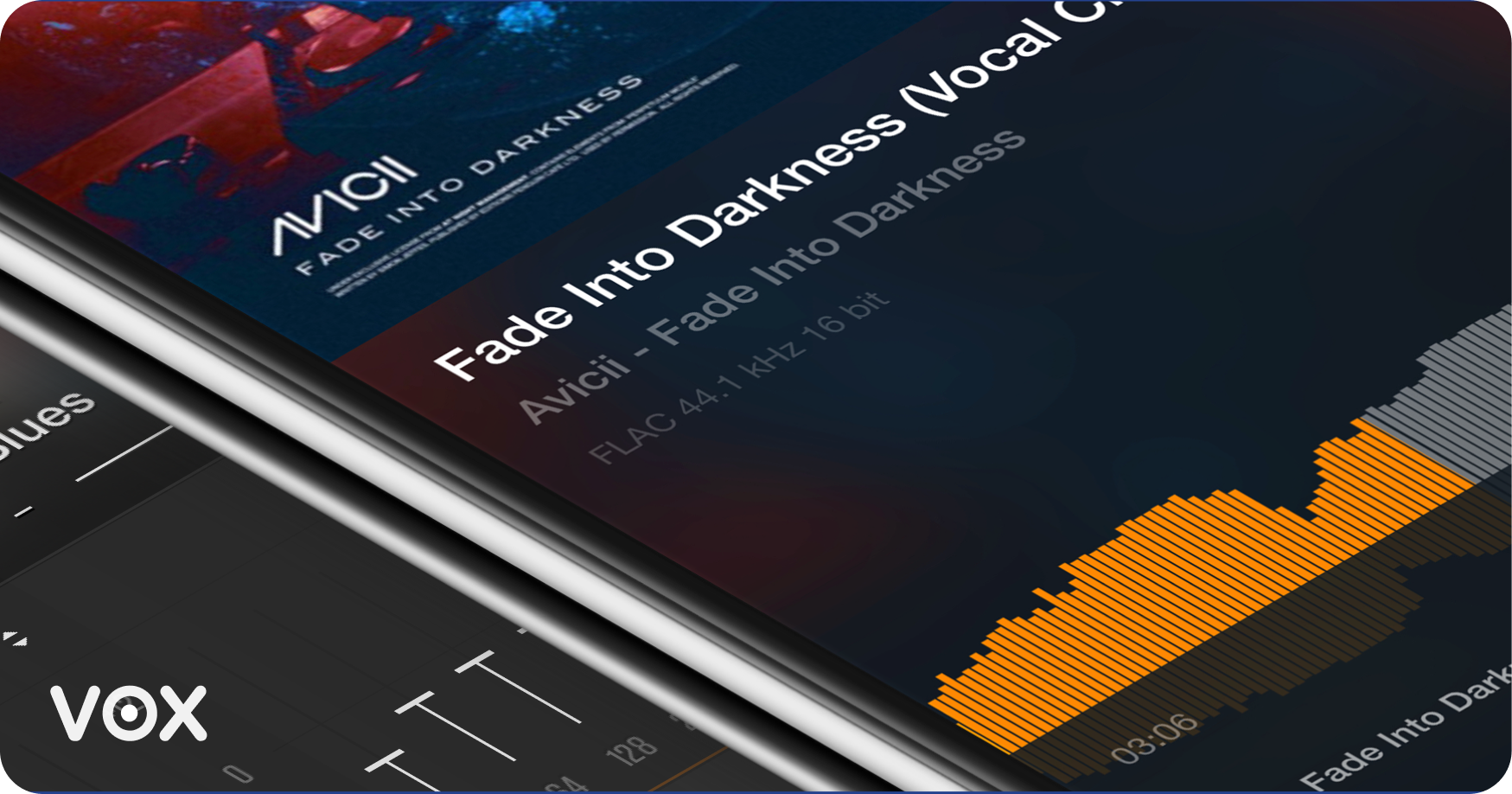 <

Here's why VOX Cloud is on our list of Best Music Apps:
Access a lifetime of unlimited cloud storage for your music collection.

Enjoy original quality music playback.

No format restrictions ..

No need to use external hard drives or worry about your room filling up.

VOX Cloud makes up a great mix with VOX Music Player as you can enjoy Hi-Res music and not bother about how much space it takes.
Start using VOX Premium with VOX Cloud inside.Create free account

For discovering – Shazam

An app that doesn't even need an introduction. If you don't know what this app does – how did you live all your life? But for those who might be from a different world, this app identifies the name of a song you hear on radio, television, in a shop or other places.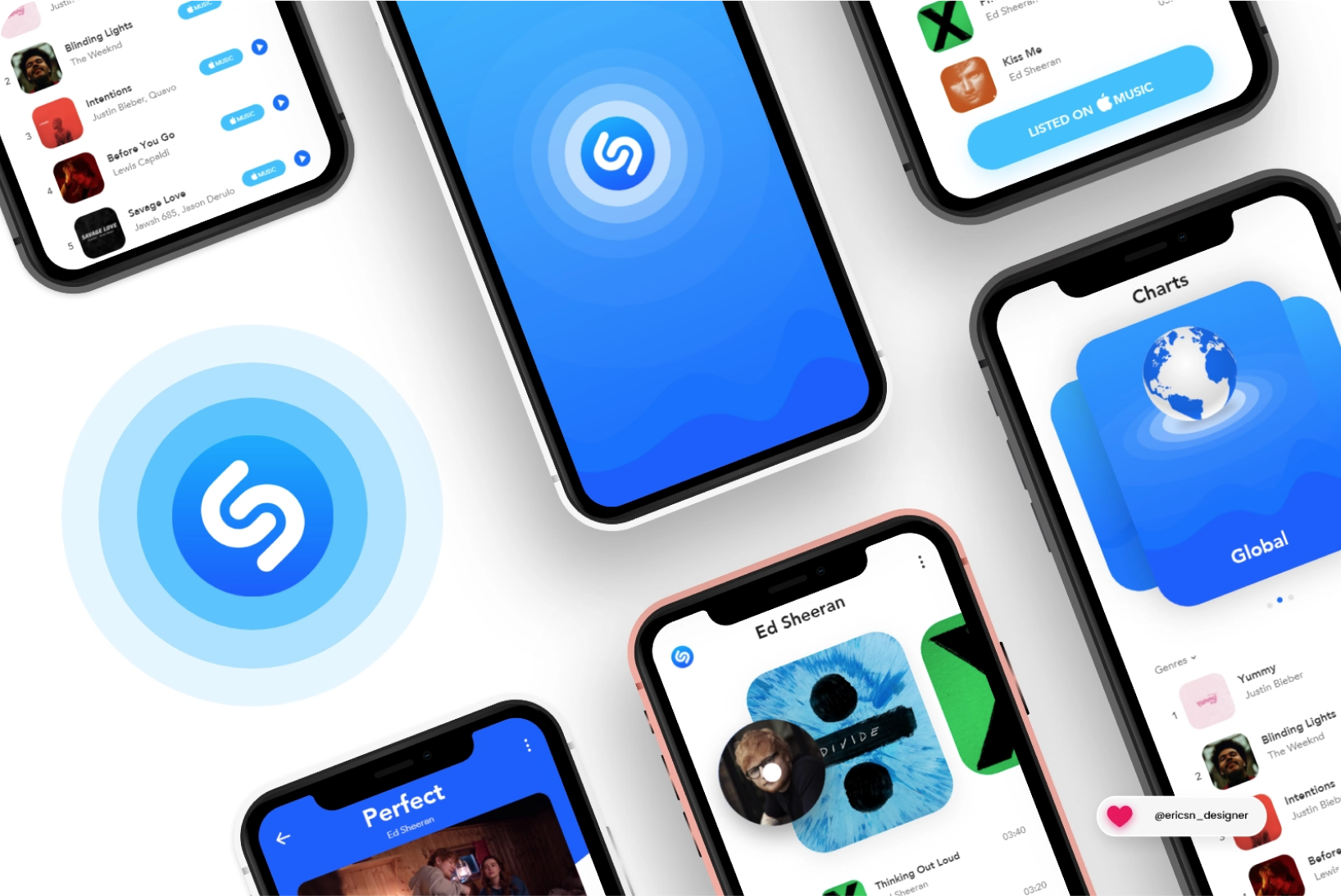 How it works
Imagine you are in a bar and a song comes on but can't truly catch the tune. Previously, you would either ask someone what the song is thus showing your ignorance or just leave never to find out about it. Now all you have to do it to press a button in a few seconds Shazam will show you song's title, artist, and album. If you don't want to take out the phone every time you hear a cool song, you can set it to identify everything it hears automatically. By the end of a day, you will have a list of all the song you heard during the day. Shazam is an essential music app for your phone that will never let you miss any tune, phrase or even advertisement. With no doubts, it's a must.

Best music app for making music – Garage Band

It makes amateurs feel like an aspiring musician. GarageBand changes your iOS device into a mobile music workstation and a rehearsal studio. The app offers a great variety of instruments as well as a sequencer for making loops and composing full tracks.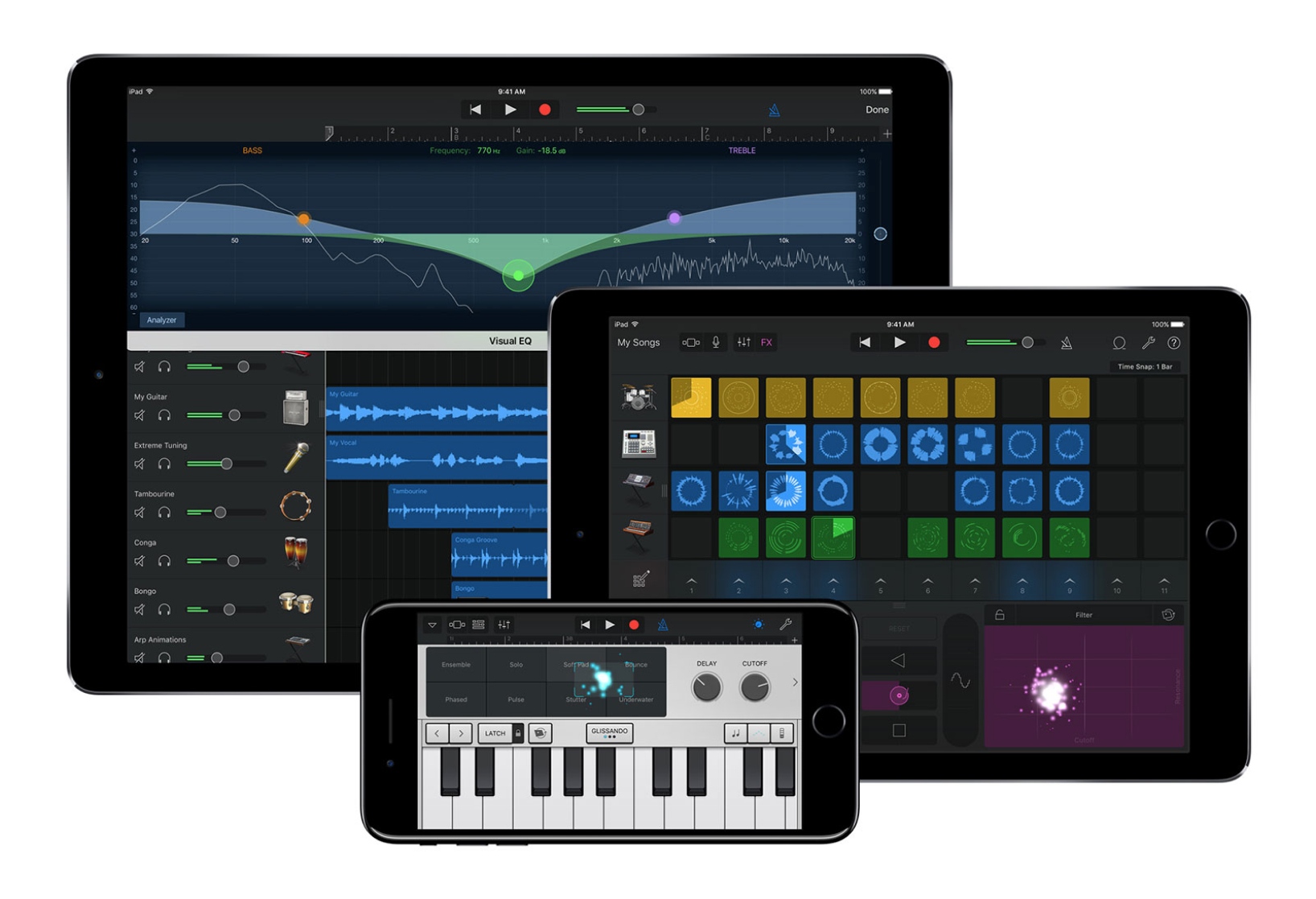 Tools provided include:

smart drums,

smart keyboard,

smart guitar,

smart bass,

audio recorder,

sampler.  

The smart keyboard is the most helpful of the instruments presented, and once selected you can pick from classic sounds like the grand piano to funky bass synths and chorus 60's sound which is a lot of fun.Your possibilities are limitless regardless of whether you're a profession trying to make use of one of the dozens of sounds or a complete rookie to the world of music.

For lyrics - Genius

   Like listening to music? You must love the lyrics. Genius app makes it simple and quick to find the lyrics of your favorite songs.     The big name is no other but a real-time tracks scrobbler, which instantly finds the lyrics of songs you are listening to and offers to read them right away. You don't have to keep the app running to be able to find the lyrics as it automatically gathers info about what you listen and immediately searches for the lyrics.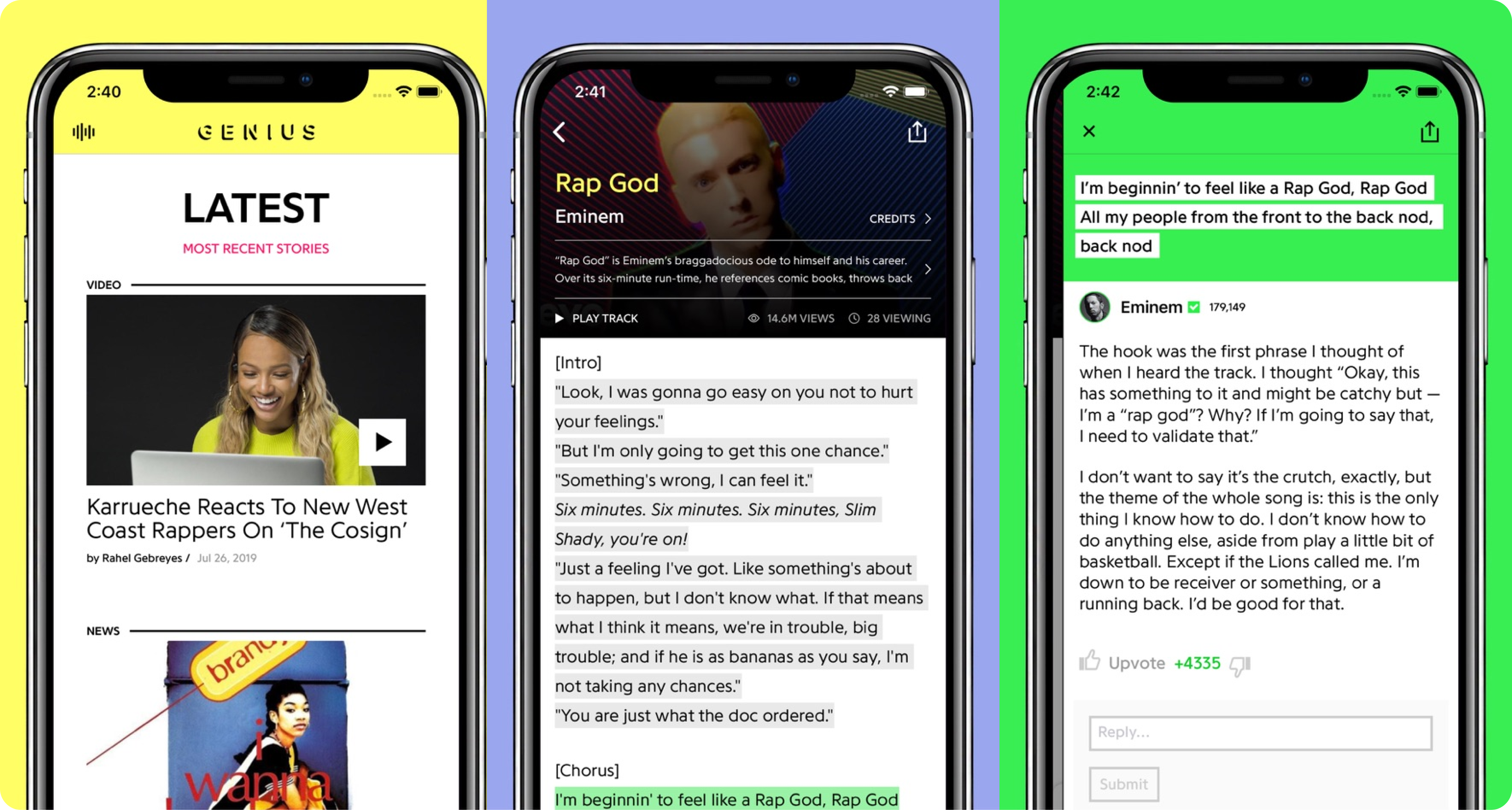 For those you like more than just reading, there are also comments and user's analysis. It can be a good time-killer when you learn, for instance, about Radiohead's Paranoid Android. Knowing the meaning of the lyrics makes the best of your listening experience. Genius works with native iOS music player as well as others, like VOX Music Player.
Having these music apps makes you sure you are using the best of a kind. Enjoy the chills.