How to use: your personal guide to Sonos app 
It's always great to supplement a great audio device with an excellent app. Here's all you need to know about the Sonos App 

Not that long time ago, the ones willing to listen to the music in each and every corner of your home didn't have that much of choice: you either carry the speaker with you or stretch wires between room. But luckily, thanks to the development of digital sphere the music has become a lot more mobile, and now we can have wireless technologies. It is now possible to transfer audio signals from numerous devices to sound system without losing sound quality. There are plenty of tools and techniques to do it, but undoubtedly Sonos has always been and still is the leader and a role model when it comes to wireless Hi-Res sound.  
Sonos – is an American company that was established with one purpose – to fill our homes with music. The main features of these loudspeakers are mobility and functionality. To have Sonos work, you must first connect one device to the home speaker, and afterward, you can add up to 32 Sonos devices which can interlink thus creating a massive sound monster. But actually, according to this chart, Sonos speakers would be enough you make your neighbors thinks that there's a live concert at your place. 
Apart from your playing your local music library, Sonos app, as well, includes numerous soft and tools that allow you to manage playlists, discover new artists or find something long ago forgotten. The list comprises Apple Music, Spotify, SoundCloud, Last.fm, etc. but you still need to have corresponding subscriptions to stream music with Sonos app. Alright, let's get straight to what the app has to offer.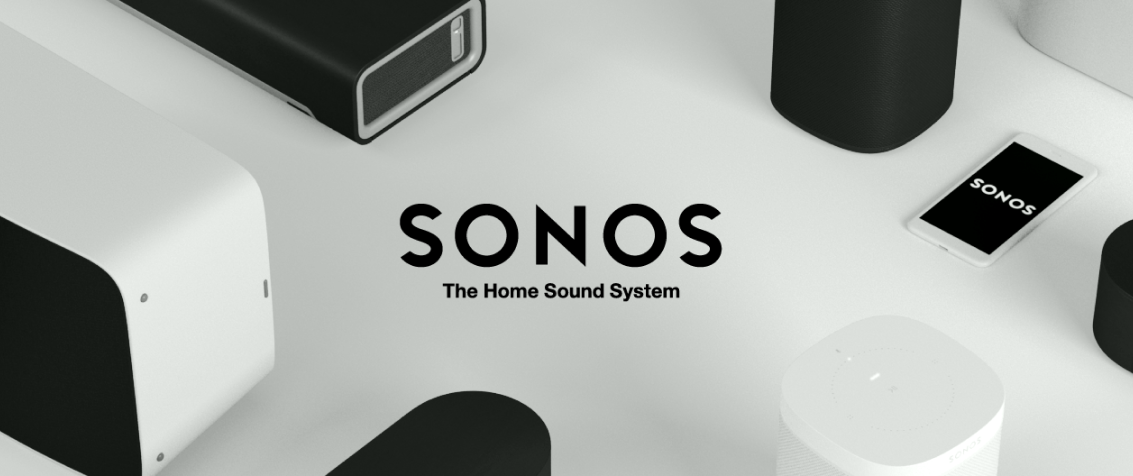 To say in brief, even a kid can manage it. The app used to be more complex before the latest update; now it is built on intuitive controlling making it as simple in use as possible. In the top right corner there 'rooms' connected to the app. In my case, there's only one Sonos Play:3 in the living room, but as I mentioned before, there can be up to 32 speakers in one network. What's more, you can name each of them as you wish, for instance, "Living Room," "Kitchen," "Bedroom" whatever. And now imagine there's a Sonos in each of them and they all are connected. You can control them separately or join them in a pair to play different music in different places at different time. You can do it just by a few taps in the Sonos app. That is a well-thought out and convenient system. Note that there's always a window allowing you to stop or resume playback which is rather convenient. If you tap it, you will quickly go to the player main menu. Here you can play/pause, skip, rewind, share, add to favorite/playlist, shuffle, repeat and so on.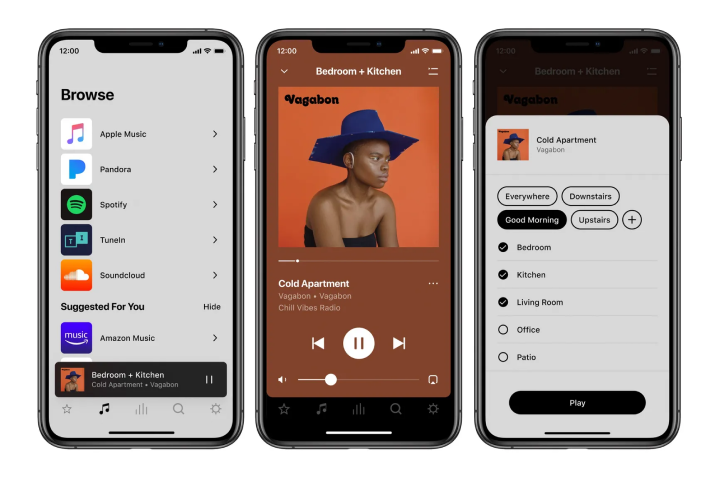 Streaming services & formats 
Tap on the left to see the main menu. Here you see favorites, playlists, your local library, added music services, internet radio, etc. 
In addition to Internet radio, Sonos app also supports a number of popular music services. The connection of such services to the Sonos Controller is carried out from the main menu by tapping "Add music services." Then choose the one you need and enter your password and login. In general, the connection process is simple, although for different services it is slightly different in detail. But after they are in Sonos Controller, you can enjoy your favorite music and online playlists with your wireless speakers. 
Tap the screen to go to services main menu and discover new compositions using a familiar interface. For example using Apple music with Sonos is nothing different from the original app. 
Sonos app supports playlists from iTunes, Windows Media Player and the following online streaming services: 
Apple Music, 

SoundCloud, 

Deezer, 

Google Play Music, 

BandCamp 

MixCloud

TIDAL, and more. 
Unfortunately,
Spotify has been removed from this list
, but you can still enjoy its library if your device with Spotify is connected to the same network as Sonos. If so, you can opt to play music with Sonos directly from the 
Spotify app with Hi-Res music.
. 
Playlists 
Sonos Playlist is one of the features that singles out this app from other "addition-to-device" apps. The thing is when you search for a song or an artist you search it in ALL the services available. It means that if you can't find someone on Apple Music, no worries, you still have 30+ more services to rely on. Like here, I typed Massive Attack, and it gave me results from both SoundCloud and Apple Music. 
To create a playlist tap Playlists to see all the playlists available. To add a song to a Sonos playlist is as easy as this. For example, you want a decent Trip-Hop complication, which might include both well-known and underground artists. As I mentioned, Sonos searches all services available. 
Find a song using any service, in this case – Apple Music.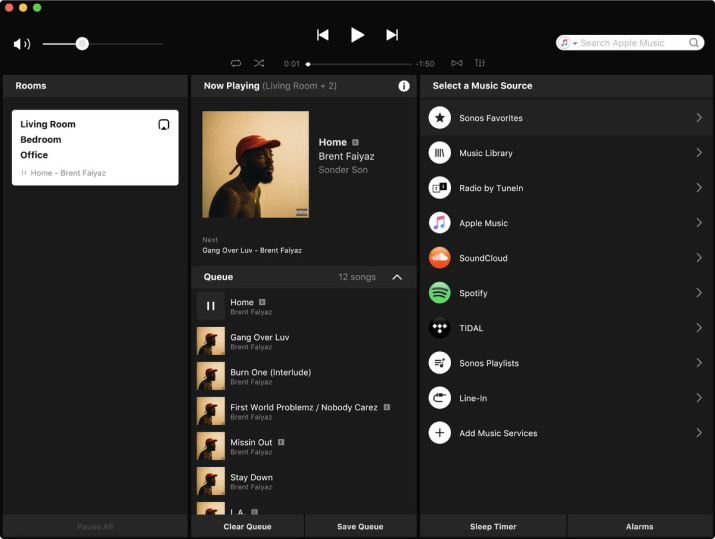 Tap «…».

Choose More 

Choose Add Song to Sonos Playlist 

Choose one of your playlists or create a new one 

Now you can enjoy your playlists
Using Sonos app as Alarm 
I reckon it's a dream of any music admirer to fall asleep and wake up to favorite tracks. Sonos makes it real, using its Alarm option. Just set the time, pick a song and a corresponding Sonos speaker. Waking up has never been that pleasant.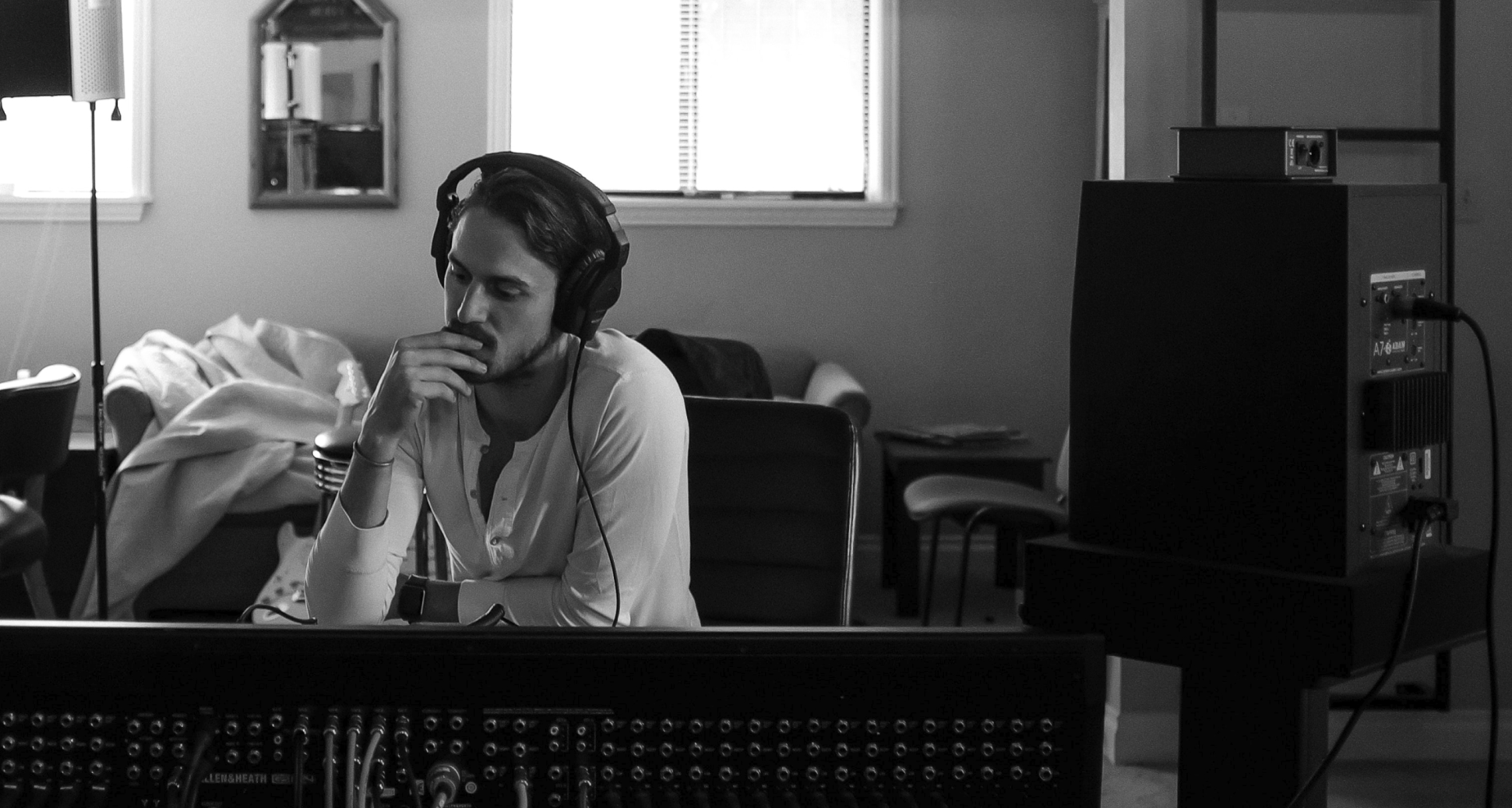 About Hi-Res music
If you prefer listening to HD music Sonos is a great device to experience the uncompressed sound. However, Apple devices in Sonos do not support Hi-Res so you should use a different audio player. There's no debate, VOX Music Player for Mac & iPhone is the best solution for you.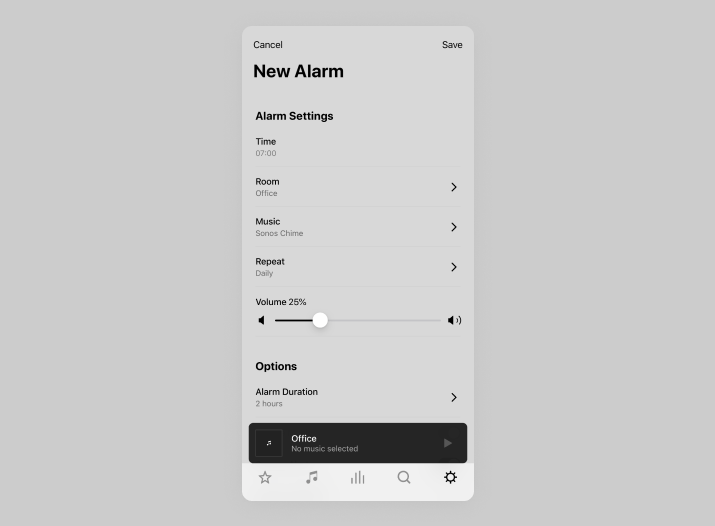 Here's why: 
Support for almost all lossless and lossy formats; 

High-quality playback without compression or converting; 

Simple iTunes integration; 

Synchronization with your with Soundcloud, Last.fm accounts, and other streaming services 
There's another great thing which separates VOX from other music players. Since Hi-Res music usually has large size files (one song can be up to 200 MB), it is rather inconvenient to store it on a device. That's why VOX developers introduced a new feature - VOX Music Cloud Storage. It is an unlimited cloud where you can store all your track and never bother about whether you have enough space to get that new album. 
How to pla
y music in VOX with Sonos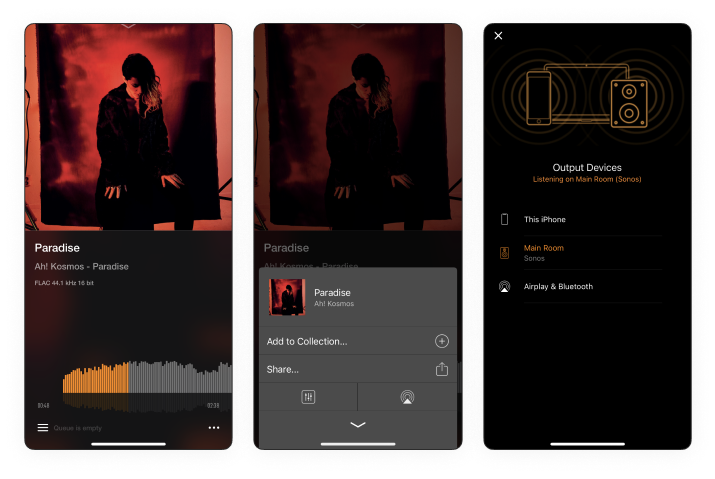 Tap «…»
Tap a Monitor Icon
Choose a corresponding Sonos

Enjoy the perfect sound. 
As you you understand, Sonos is probably the best solution for the home sound system due to its High-Quality sound, mobility, and functional Sonos App. Using the app make it easy to control what you listen to as well as some other significant features. 
To truly experience the full power of your Sonos we suggest you listen to Hi-Res music using VOX Music Player for Windows, Mac & iPhone. It's going to be a perfect mix of Hi-Res Music Player and HD sound speakers.