Which Music Player App To Use?
Not sure whether to keep on with iTunes or find a new music player app? You're not alone.
Whether you're an experienced Mac user or just acquired a new machine, you must've already realized that iTunes, as a music player, is nothing else than a real pain in the ass. In fact, it's not only iTunes that I'm not in favor of. Most default Mac applications have much better alternatives. For instance, Microsoft Word instead of Pages, Google Chrome instead of Safari, Adobe Acrobat Reader instead of Preview and so on. It's a common delusion that built-in apps work better on macOS.
So what should you do with iTunes? Leave it and subscribe for Apple Music? Not so fast. Read on to find out what music player app is far better than its counterpart. But first, I must answer a fundamental question.

Why replace iTunes?
I singe out two key reasons – sound quality and unfriendly UX. Regarding sound quality, Apple Music streams at 128-256 AAC, which is a compressed lossy format. iTunes allows only three lossless formats – ALAC, AIFF, and WAV.  If you don't know why it's wrong, you can read about the difference between Lossy vs. Lossless. What about the interface, well, just see for yourself: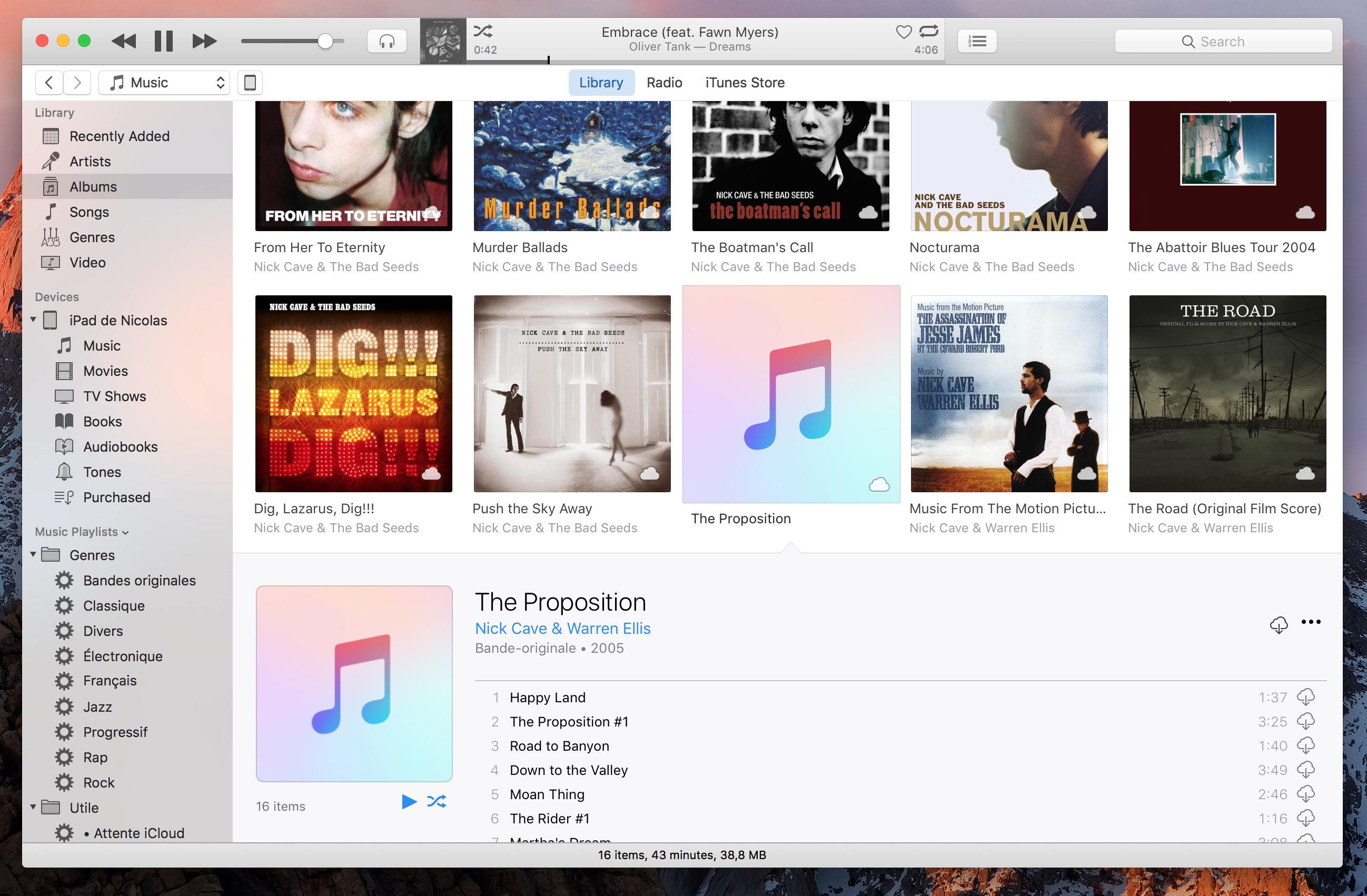 For me, it's enough to quit using an app, and especially a music player app. So what iTunes alternatives are there?
VOX Music Player – Best Music Player App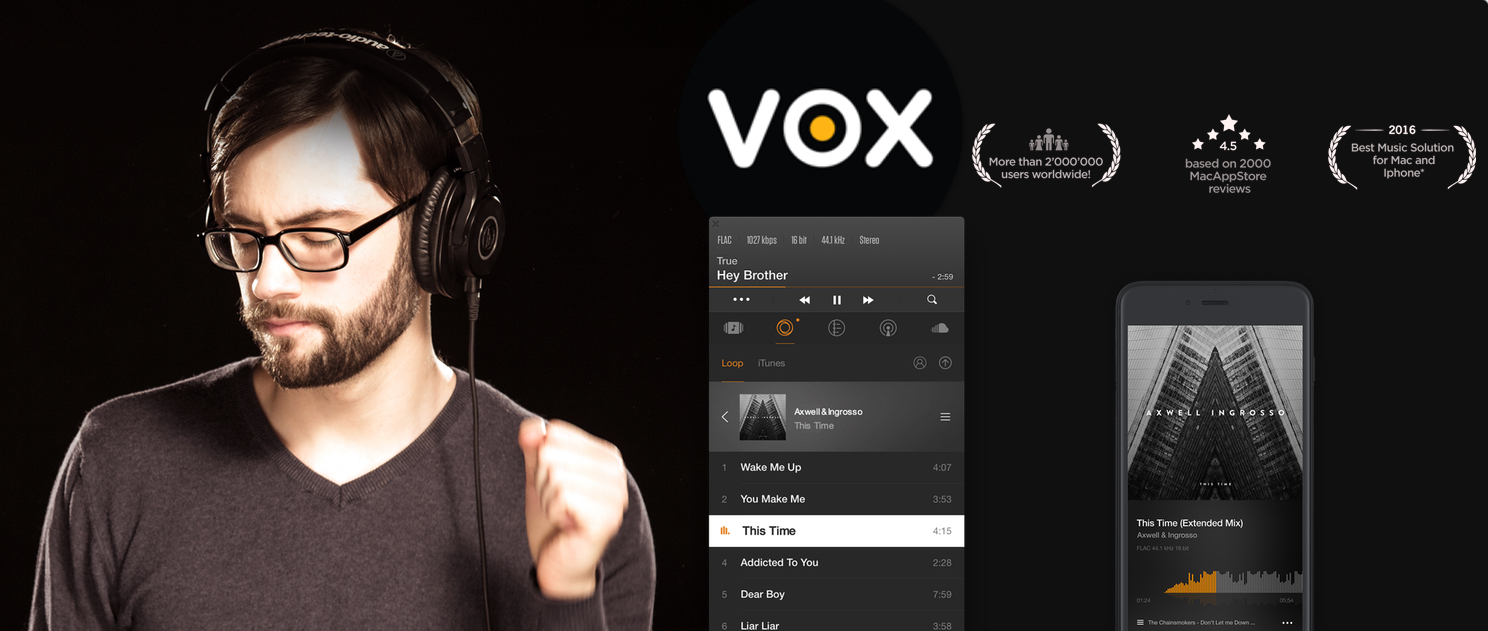 VOX Music Player for Mac is an audio player that combines intuitive design, a powerful sound engine, and lots of advanced audio features. First, I want you to understand that VOX is no streaming service, but a player. Your library will mostly consist of your music, but you can integrate with other apps, like SoundCloud and Spotify. More on that later. Here's what VOX for Mac has to offer:
Try VOX Music Player for Mac

VOX for Mac InterfaceThe main window is a classy mix of minimalism and functionality, and it won't make you ask 'How to...?' questions. You can you view your music in two ways: List view and Grid view. Both are fine, but I prefer List myself. You can minimize it to see only the tiny playback menu.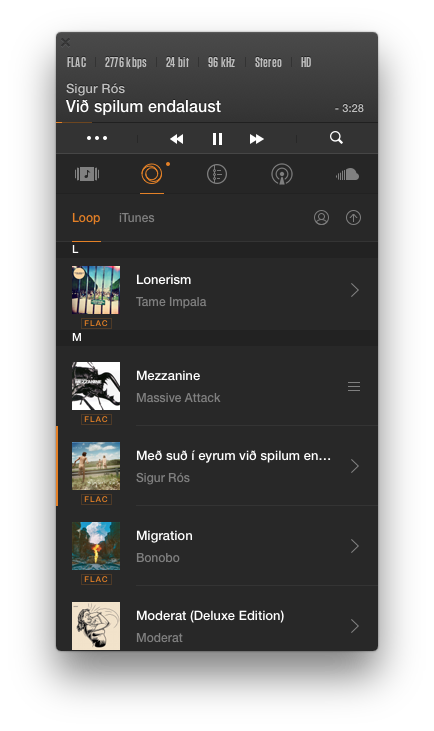 VOX Sound QualityAudio quality is something that VOX can be proud of. Why? Because VOX is one of few players that can play most Hi-Res audio formats. It doesn't matter if it's FLAC, WAV, or PCM – VOX will play it with no compression or conversion. Lots of people don't even know what they're losing when listening to compressed music files like MP3, M4A,  and OGG. VOX gives the best audio quality, which you can adjust according to your personal preferences using VOX Advanced Audio Settings.
Learn more about the HI-RES music

VOX Advanced Audio SettingsAlthough VOX is not a professional tool for sound mixing, it has a wide range of settings that help you achieve the best sound. VOX Music Player features:
Equalizer.
BS2B.

Volume Limit.
Hog Mode.
Convert Stereo to Multiple Channels.

Gap/Overlap.
How To Use Sound Booster in VOX

Go Premium with VOX Music Player for Mac and iPhone


Equalizer in VOX Music Player appUnlike many Equalizers, this one is particularly easy to use. Providing you know how to use it, congratulations, your music will sound just amazing. If you're like most people, read my guide on how to use the Equalizer in VOX. Trust me, it's worth it.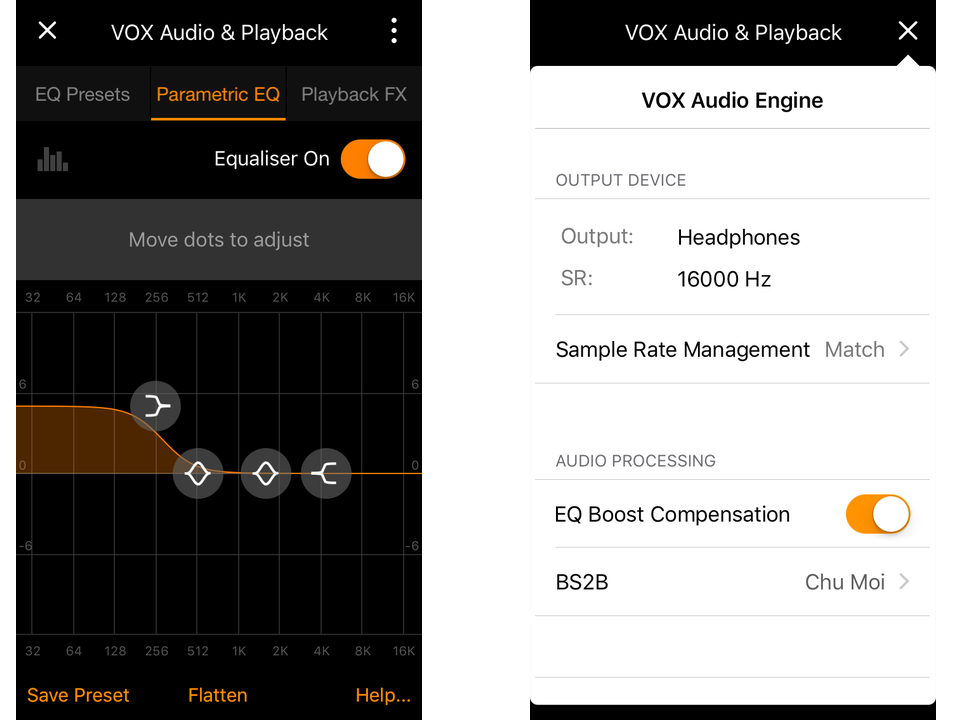 VOX Radio
VOX Premium (paid tier) unlocks over 30,000+ radio stations from all over the world. They include both the popular ones, like KEXP and KCRW as well as the underground ones. Not many music player apps can say that.
Download VOX Music Player for Mac

VOX Cloud Storage
VOX Cloud Storage (formerly LOOP Unlimited Music Cloud Storage) is no ordinary cloud storage like Dropbox or whatever. First, it's unlimited. It means you can upload as much music as you want, regardless if it's 10 GB or 50 TB. Second, VOX Cloud Storage doesn't compress or convert anything. To compare, Amazon Music Cloud and iTunes Match allow you to upload all audio formats but eventually they convert it to lossy MP3, so there's nothing left from the original file.
Get VOX Music Player for iPhone
VOX Cloud Storage is available exclusively for VOX Premium subscribers. When you upload music to VOX Cloud Storage  you can stream it to both Mac and iPhone, there's absolutely no need to store your music on your hard drive. Moreover, Hi-Res files tend to take up lots of storage space (a song can be up to 200 MB), so keeping them in a cloud is sensible.

SoundCloud, Last.fm, and Spotify integrationI understand that no matter how much music you already have, you will always want more. That's why if you have a SoundCloud or Spotify account, you can sign in and access their music libraries via VOX to be able to add songs from their collections to your playlists. Also, you can scrobble to Last.fm to know you listening stats.
GO Unlimited with VOX Premium Music Player

Conclusion. VOX app is the best music playerIn 2017 it may be difficult to pick a decent music player app for macOS, however, I suggest you give VOX Music Player a shot. VOX for Mac comprises all the best features, from a simple interface to VOX Cloud Storage. Try advanced audio setting to take your listening experience to the new level. Given that most players are more concerned about anything but the sound quality, VOX can give you a truly unique listening experience.Enjoy the 'chills' with VOX