The key factor: Why HD Audio Player matters more than your hardware


Every two or three months comes an "I don't know what to listen to" period and what we do is we open any streaming service, like Spotify, and go the 'Discover' tab. It's the easiest way to let new songs in our life and get this artistic satisfaction.
However, satisfaction is not quite the word. The thing is, what most streaming services offer (including Youtube) is a compressed echo of the original audio, and it can hardly be called 'satisfaction.'
You must've thought that in some song bass can be deeper, the drums are too loud, or the voice sounds shrill. It's because the sound quality sucks. Don't get upset, it's not about the hardware you have the song itself. The overall sound quality boils down to two factors: the file and the device you use.
Providing you have HD audio file and a pair of decent headphones (or speakers) you can discover your favorite songs from a whole new side. It's actually the audio player and its audio engine that make music sound neat and clear. A big number of modern audio players don't play HD audio formats, therefore, eliminating the possibility of our enjoying the original sound from the studio.

What audio formats are there?
We roughly divide all music formats into compressed and uncompressed. Uncompressed can also be lossy and lossless. Each format has reasons for and against and they all are different. Uncompressed audios sound as they were recorded in a studio. When an artist is playing, recording equipment captures sound waves and turns them digital with no processing. That's why uncompressed formats are the neatest, and take up most space (average song is around 100 MB).
Uncompressed audio formats:
WAV.

AIFF.

PCM...
Compressed audioLossy formats come from a kind of compression when some audio data is thrown away to reduce the size of files. What is erased is usually sounds we can't catch using mediocre devices (poor headphones or internal laptop speakers).  

Lossy formats include:
MP3.

AAC.

OGG.

WMA ...
Lossless compression is a form of compression that does reduce the size, but it doesn't delete any audio data, so files sound like the original recording. And again, the size is slightly reduced but not to the extent that makes it possible to store thousands of songs of a Mac, not to say about an iPhone. Uncompressed and lossless files are often referred to as Hi-Res or HD Audio and they, of course, sound best.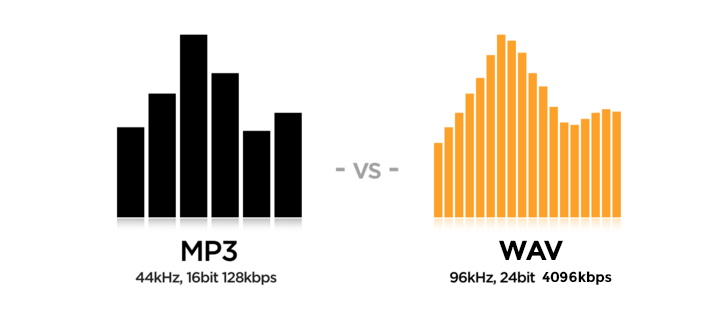 LEARN MORE ABOUT HI-RES
Since we tend to listen to digital more than physical, the software we use is a key factor to achieve the best sound. Most audio players can't play HD Audio for two reasons:

They're not that widespread.

Their size is much bigger.
Don't get confused thinking that converting FLAC to MP3 will just change the file's extension. It's gonna be a completely new piece of audio material. I'm pretty sure you are craving for a great cross-platform HD Audio Player, so today I'm going to tell you about such a player and convince why it's worth trying.
VOX HD Audio Player for Mac & iPhoneVOX is a true HD audio player for Mac and iPhone that can play most popular HD formats, and lossy ones too. Hopefully, it will change our perception of music and the way we treat it. The emphasis is put on the quality. VOX has a strong sound engine enhanced by a BS2B technology to make your listening experience even better.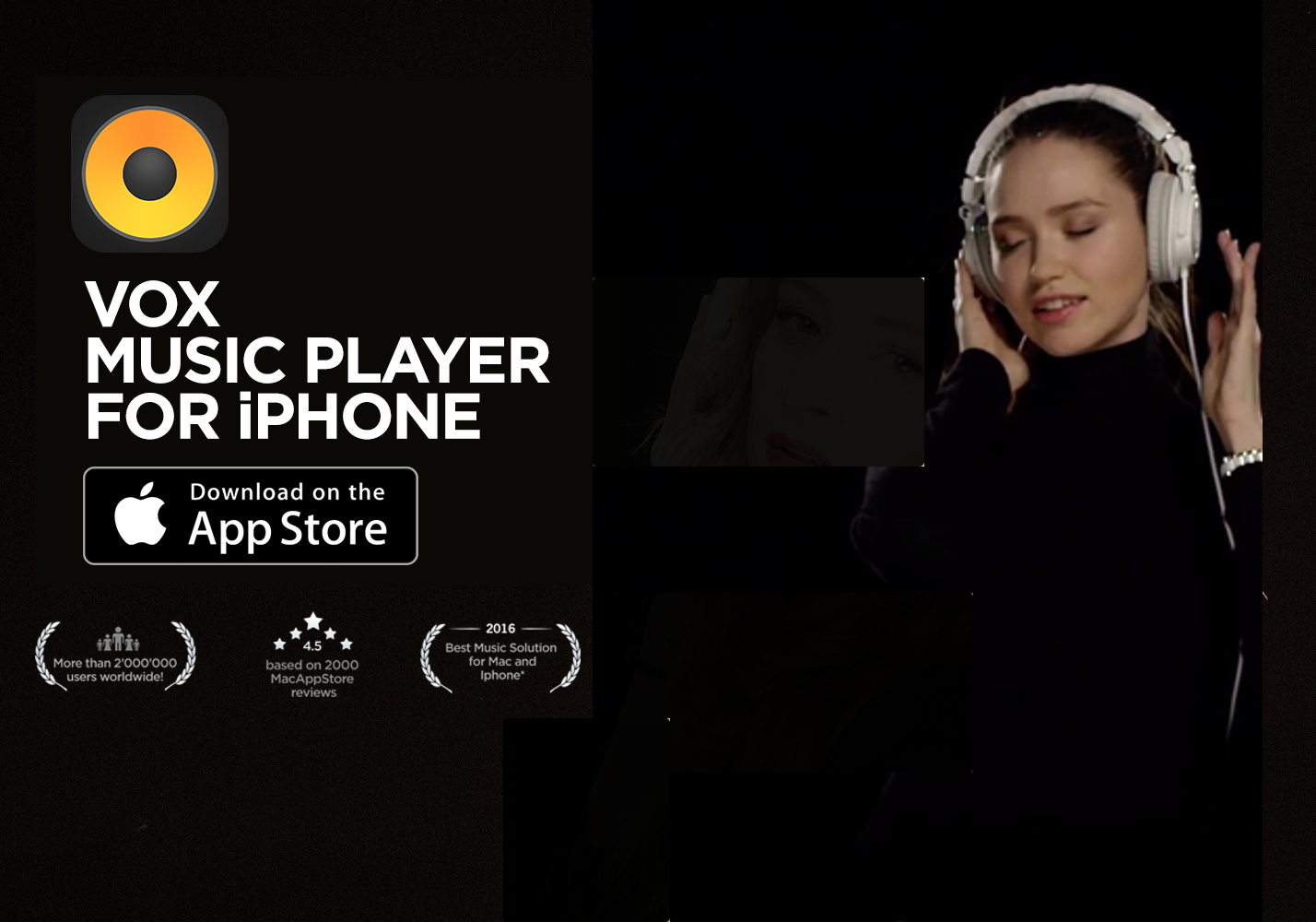 What it BS2B?BS2B is a technology that reduces listening fatigue when using headphones. The majority of stereo music is created and produced using loudspeakers. When listening music through headphones, as technology authors say, one gets a wrong sound picture (stereo image), which is different from what sound producer had. This is because when using loudspeakers, both left and right loudspeakers are heard by both left and right ear. When using headphones - there is a higher level of isolation between left and right channels. BS2B tries to smoothly blend left and right channels in order to simulate the loudspeaker setup, so in headphones, a stereo image appears just as if you were listening through loudspeakers in a studio environment.

It's no secret that iTunes and many more audio players have complicated interfaces difficult to navigate in. But VOX for Mac has a minimalistic interface with five sections (Playlist, Collection, Queue, Radio, and SoundCloud). VOX Music player for Mac doesn't take up too much of screen space if when you want you can minimize it to look like this: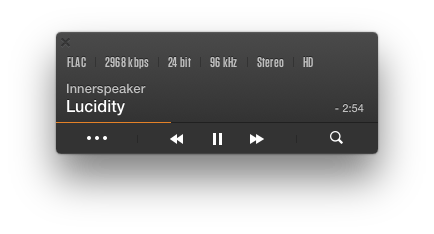 In Radio you can access over 30,000+, and SoundCloud streams on Mac from the services allowing you to make playlists comprised of your local music and songs from SoundCloud. Even more, if you have a Spotify account you can mix the three sources if you are tired of switching between apps. The Equalizer has over 20 presets for different genres, but you can create your own customization according to your sound preferences. With all these features, VOX is the best HD Audio Player.
Download VOX Music Player for MAC

As you already know, HD audio files have too big size. Luckily, VOX has its own music cloud that can store all your music.
VOX Music Cloud Storage for HD AudioVOX Cloud (formerly LOOP Unlimited Music Cloud Storage) is an unlimited music cloud that can store your music giving you access to it anytime, anywhere. You don't need to use external HDDs or NAS devices anymore. Neither you have to think about cleaning your Mac – VOX Cloud stores all of it.
VOX Music Cloud Storage has two crucial features:
Since VOX Cloud is an unlimited cloud you can upload as much music as you want. It has no limits regarding formats as well. No song is converted or compressed, so you listen to what you actually upload.

VOX Cloud syncs your Apple devices, so whatever you have in the cloud is available on both Mac and iPhone.


How does it work?You upload some albums to VOX Cloud on Mac (part of VOX Premium account) , and they also become available for listening on your iPhone. As I've said, the quality remains original, so it's a great option to listen to HD audio on iPhone. You can download some tracks or albums to iPhone for offline listening when you need. VOX Cloud is available only for VOX Premium users. It's a perfect HD audio player designed for everyone who appreciates quality and functionality.
Start uploading music to VOX Cloud.Create VOX Premium account right now

To concludeWe have finally come to a moment when MP3 is no longer a standard of digital music, and the quality is more valuable than the quantity. What we now need is an HD audio player that can play music of high resolution
VOX HD Audio Player is the one that combines all the features to take our music experience to a completely new level. It can play scores of audio formats, produces the highest audio quality, scrobbles to Last.fm, and VOX Music Cloud stores all your songs. VOX is a perfect solution for music admirers who prefer HD sound.

Enjoy the chills with VOX