Looking the best iPhone music player? It's VOX!
Today we would like to ask you to forget that iTunes exists and have a look at other iPhone music players, which can be a very good alternative to iTunes indeed.
We, at Coppertino, are convinced that music we listen to should be of the best quality. Because if it is not, what pleasure would it bring? Of course, one cannot expect the recording-studio-kind-of-sound from an average smartphone. However, we are still capable of finding the music player which will do its best to play your music track very similarly to the original recording.
Not everyone has proper headphones, which allow you to hear all tiniest tones of the song. Don't worry, it is not the end of the world: having awesome headphones is just a part of the whole experience. The other one is to have a "tool" – a music player, which will take care of the rest and will deliver breathtaking sound to you. We are off to find the best iPhone music player today!
What is the most important thing we are looking for in the iPhone music player?
First things first: let's talk about the formats which should be able to be played on the iPhone music player. The time when everybody had an MP3 music library is gone, it is in the past. With the variety of formats available today people are able to choose the one which suits them best.
Lossless formats vs. lossy formats
Music lovers usually prefer to listen to lossless formats even though they might seem to be not as popular as lossy formats such as MP3.
FLAC vs MP3? Being lossless means that all of the data is efficiently compressed. In other words, an exact copy of the original file is compressed to a smaller size for a more convenient storage. However, with MP3s being everywhere it might be slightly tricky to find the file you want in lossless format; besides it can be a bit bigger than the corresponding MP3 file. People who have not understood the beauty of the lossless sound yet still have a lot to discover. That's why we think that the best iPhone music player should be able to play both lossless and lossy music formats in order to give its owner an opportunity to choose whichever they want.
Let's check out some of the popular iPhone music players: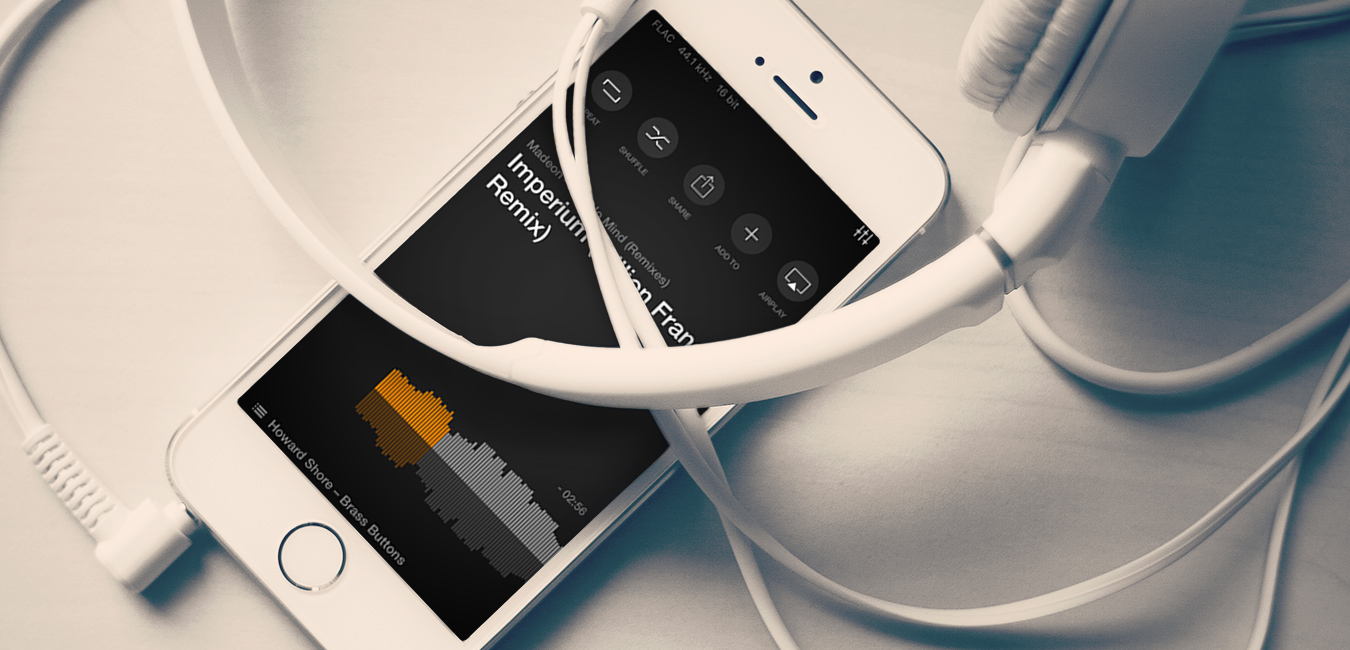 FLAC Player+
This player was created specifically for listening to your high quality music on iPhone and iPod touch. Its design is rather simple, but all of the necessary features are there. You can manage your files using different options such as "Artist", "Genre", "Playlist" etc. It also supports a Wi-Fi transfer and Bluetooth headset. But the best is that it supports a rather wide variety of formats such as MP3, AAC, WMA, FLAC to name just a few. Another important thing: it is completely free!


Fidelia
The creators of this iPhone music player are not shy at all - the first sentence you read after you have found it in the App Store is "premium music player". The main reason for that must be the player's ability to play a lot of formats, for instance AIFF, WAV, MP3, AAC, Apple Lossless, OGG, FLAC, etc. The player also offers the feature of converting the files you add to Fidelia to a preferred format. Even though the tastes differ, one cannot argue that this player is very elegant and does not look overfilled with a number of interesting features (such as headphone processor and sample rate converter, etc.) The downside might be that the remote version for iPhone costs $9.99 in the App Store, whereas the main player for your Mac will cost you $29.99. However, for this money you will get more than an average player would offer you. It does seem to be a pretty good deal, doesn't it?


VOX iPhone Music Player: all in one solution
Another great music player for true music lovers – VOX music player. This player puts quality and sophisticated sound first. In addition, it would not be on our list if it did not play all the formats we talked about already. It boasts an enhanced Bass technology to ensure that your experience is amazing. It also fully integrates with SoundCloud and allows you to share the now-playing-track on Facebook and Twitter because sharing is caring! And the last but not least, it has a feature of an Unlimited Music Cloud Storage called VOX Cloud Storage to synchronize all your music libraries from different Windows, MacOS and iOS devices. When you install VOX to your Windows, Mac or iPhone, however you can pay for VOX Music Cloud Storage in monthly ($4.99) or yearly ($49.99) installments. The player gets better and better every day and that's why it is undoubtedly one of the leaders in the field of music players for iPhone and Mac.
Start to Sync Music between Windows, Mac & iPhone with VOX Music Cloud Storage Now. Create FREE account. 

Today we talked about the features that the iPhone music player should have. We came to a conclusion that it should be able to support both lossless and lossy formats. Consequently, we talked about the features of 3 different players which support a good number of different formats. The players we had a look at were:
FLAC Player+;
Fidelia;
VOX iPhone Music Player.
Try VOX iPhone Music Player with SoundCloud Streaming Solution right now. Try it for FREE!
And we believe that all of them are really good representatives in this field. Let us know if you can find even a better one! :)