Find the best SoundCloud downloader for Mac!
Have you found that perfect song on SoundCloud? Or maybe there is even a bunch of them from the same artist? If SoundCloud is your ultimate place for finding new songs from well-known and upcoming artists, then you should consider getting a SoundCloud downloader for your Mac. And we are going to help you with this search!
First of all, you need to think about what would be the most convenient way for you to download songs from SoundCloud. Do you prefer browser extensions or maybe, you already have a number of downloader apps installed on your Mac? Or perhaps you use both? Don't worry, we will review all the possible options in this article!
SoundCloud was created primarily as a streaming service. It allows his users to listen to the most recent music from popular singers as well as gives the chance to the ordinary people who would like to share their music with the world. It is very easy to navigate SoundCloud – you may search by name, genre or a word. One can follow his favourite artists and create playlists for all occasions.
So what options do we have?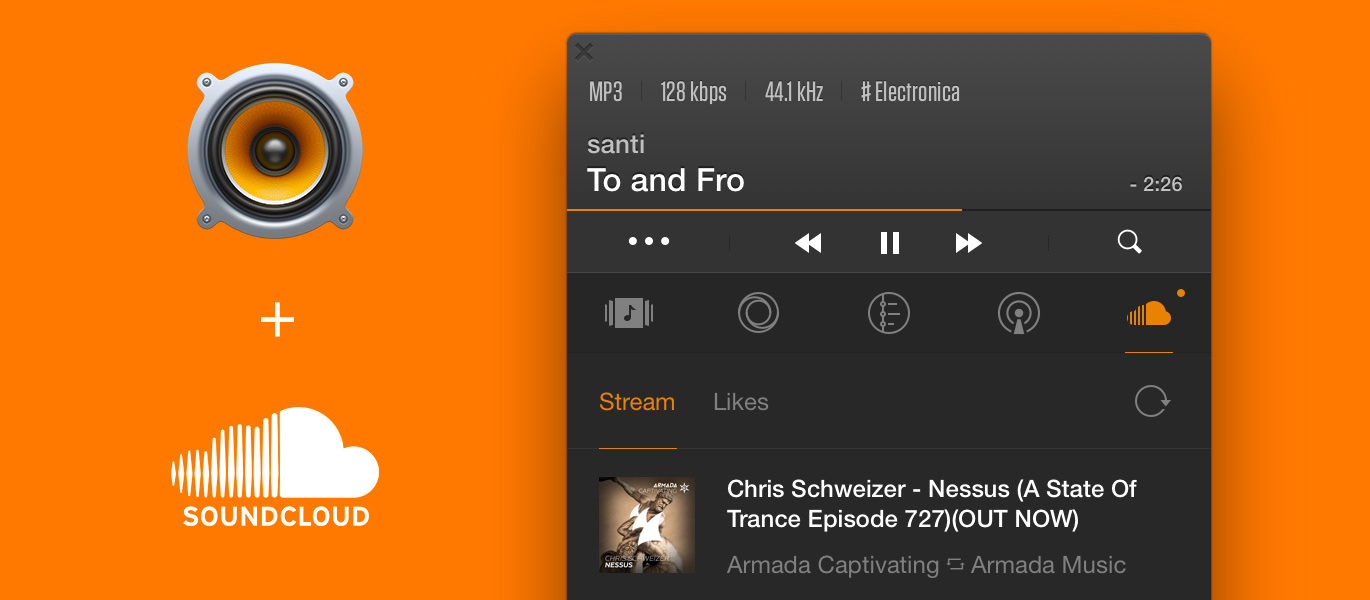 Option 1. Downloading from the web-version
The first option that we would like to present to you does not require you to install anything on your Mac. In order to use this SoundCloud downloader Mac you just have to log in to your account on SoundCloud's official website and look for the music you like. Then, once you have found the song, just click on the "Download" button and the download will start automatically. You may repeat the process for the other songs that you liked. Unfortunately, not all of the tracks are available for a free download – some of the users simply reserve the right to either make their track downloadable or not.
Do not give up – the following 3 options will help you download any track you like!
Option 2. Using a SoundCloud downloader app for Mac
Another option involves installing an app on your Mac. If for some reason you would prefer to browse songs not in browser, then this is the solution for you. There is a very wide range of Soundcloud downloader apps for Mac nowadays, but we would like to talk about a few specific ones.
Soundnote is one of the latest additions to the vast majority of the apps for Soundcloud out there – but it has only positive reviews. It is free and can be downloaded from the official website. With the help of Soundnote you will be able to search for music, like tracks and follow artists. It features an interface which resembles a bit of Spotify, usage of your native media keyboard shortcuts and even more! All in all it is a desktop app which boasts to have all the elements of SoundCloud and a very "natural" feel, as if it was installed on your Mac by default. Just keep in mind that this app serves you for a more comfortable listening directly from your desktop, not for the regular download.
SoundCloud downloader for Mac is one of our favourites – it is free and easy to use. It allows the user to download either separate tracks or sets of tracks. One can even choose to download their whole SoundCloud's library (in order to do that, they have to have a SoundCloud account).
Here is how you download tracks with SoundCloud Downloader for Mac:
Install SoundCloud Downloader for Mac
Launch it.
Insert the URL of the song in the Search bar.
Press "Download".
Find the song in the folder of your choice and enjoy.
One of the advantages of this app is the opportunity to download up to 5 tracks at the same time. The interface is very minimal (just a search bar) but can be easily extended if you would like to see your playlists and downloaded songs. It also comes with Growl notifications feature – no need to check anymore, you will be notified after the song's download is complete.
Option 3: VOX music player for Mac & iPhone – Listen to SoundCloud tracks in lossless
VOX music player is an official music player for SoundCloud. It means that if you install VOX on your Mac, you will be able to add SoundCloud songs to your playlists and mix them with the tracks you already own.
As you can see, in order to listen to SoundCloud songs you do not have to download them to your Mac, you can simply add them to your playlist. Moreover, since SoundCloud is fully integrated with VOX music player, the tracks will stream in the best quality, just like they are stored on SoundCloud. It applies for both lossy and lossless sounds!
VOX music player is one of the best choices if you are looking for a SoundCloud downloader for Mac and we guarantee that you will not regret it!
Option 4: SoundCloud Downloader Websites
This is probably the best solution for those who decide to download SoundCloud tracks once in a while. You just have to insert the URL of the song into the search bar and download it. It is quick and easy, but the quality of the downloaded track might not be the very best. We quite liked clipconverter.cc – you can choose between MP3, M4A, and AAC outputs and download pretty much every song out there.
If you would like to download music from SoundCloud to your Mac, there is a variety of options you could try out. Find the one that suits you best and enjoy your favourite music anytime you want ☺